I know I promised simple transistor uses last time. Thinking about it though, I'd rather go into a bit more detail about the electron golfing I described earlier. It's a neat analogy, but it doesn't cover some things you can do with diodes. Interesting things. Therefore we're gonna dive in for a deeper understanding of chemistry, atoms, and cartoons. Let's look at a model of an atom using common household objects: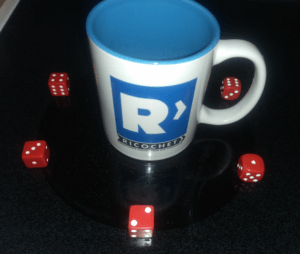 An atom consists of protons and neutrons in the middle and electrons outside. The common picture of an atom has those electrons whizzing in neat, well-defined orbits. That's wrong. It's closer to electrons having spaces they hang out in. We're on the level of quantum mechanics here, so odd stuff happens. It's not actually possible to tell where an electron is; it's small enough that you can only give probabilities. Hmm… let me try it again.
Suppose you're in a grocery store with 10 aisles. You find a toddler wailing for his lost mommy. Where is his mom? She's in one of the ten aisles, so you could assign her 1/10th chance of being in any particular aisle. You can raise the probability for the dairy aisle (kid looks like he drinks a lot of milk if you catch my meaning), and lower those probabilities generally when you remember to include the deli and check out lanes. You can drop some probabilities to zero when you've checked that aisle already, and eventually raise her chance of being in a given location to 100% once you find her in aisle six (canned goods.)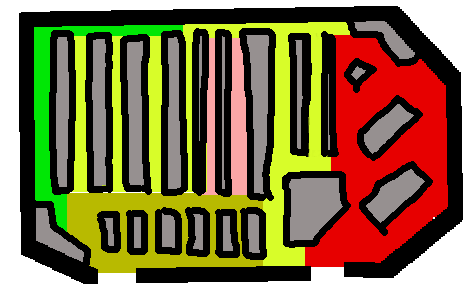 One of the funky things that quantum mechanics does to us is that we can't actually ever raise the probability of the electron's location to 100%. Something called the Uncertainty Principle puts an upper bound on it. (I tend to think of uncertainty as a prank God played on the physicists. "This'll really get their goat!") When you're talking about an electron in an atom you can talk in terms of where you're likely to find it (this little shell around the nucleus) and where you're unlikely to find it (everywhere else in the universe. Especially New Jersey). Each individual electron is stuck in something called an orbital. Which sounds similar to but is different from an orbit.
Let's say you've purchased a Build-Your-Own-Atom kit from Πkea. It comes with one silicon nucleus (Fourteen protons, sixteen neutrons. Looks like you lucked into one of the heavy ones. Nice!), fourteen electrons, a pair of super sharp tweezers and a single Allen wrench. You carefully tweezer your first electron into place. It settles into the 1s orbital.
The what now? The first orbital is a spherical shell around the nucleus. Sort of boring looking. You'd think that "s" stands for spherical, but actually it stands for sharp, for historical reasons and not really worth remembering. Okay, one electron into the 1s orbital. That's the lowest energy state it can manage and it always fills up first. Like the parking spots near the door. Nature, it pays to remember, is fundamentally lazy. If it can find a lower energy state you better believe it's going to sit there. Rocks are especially lazy; they just sit on the ground and hardly ever fly around hitting things. Same principle applies in an atom; your electrons will get to the lowest energy level (closest to the nucleus) it can manage.
You can fit another electron into the 1s shell, so long as you remember to spin it the opposite way. Something called the Pauli Exclusion principle, named after a German physicist who didn't get invited to many parties. Your third and fourth electron go into the 2s shell. It's much like the 1s shell, only larger.
Your fifth electron goes into the 2p orbital. Now that you're far enough out of the nucleus the electrons get a little creative in locations. P-orbitals look like figure eights; balloons extending on either side of the nucleus. Dumbbells that… just look at the darned picture. You can stack three different p-orbitals into a shell; one going up-down, one going left-right, and one going back-forth. They'll fit six electrons total.
Ten electrons down, only four to go. Good thing too; all this tweezering is giving you eye strain. Two more electrons go into the 3s orbital. Put the last two into the 3p orbital. Voila! A neutral silicon atom. Supposing they had included an extra electron; you could have added a third to the 3p orbital and get a negatively charged silicon ion (it has one more electron than it has protons). Meanwhile, the sap who lost his electron has a positively charged ion (one less electron). Ions of one sort or another come up a lot in computer building.
The full list of orbitals filled in a silicon atom goes like this: 1s2 2s2 2p6 3s2 3p2. Or you can shortcut it and say [Ne] 3s2 2p6, using the previous noble gas to avoid writing the less interesting inner orbitals. The ones on the outside are the ones which make chemistry happen. That's where the action is.
Now let's probe the sucker. Take a photon and shoot it at the atom. What happens? Nothing if your aim is that lousy. Supposing you hit it though, the question is, how much energy is in that photon? Let's say that you hit one of the electrons in the 2s orbital. Your photon gives the electron a bunch of energy; it jumps out of the 2s orbital and straight into the 4f orbital, much like Yosemite Sam getting his pants lit on fire. There are d and f orbitals that fill up if you've got a heavier atom; technically the smaller atoms have them too but an electron that finds itself in one doesn't long stay in one. Much like Yosemite Sam once he's wandered off a cliff edge. Didn't think you were learning science from cartoons, did you? And all that time you were watching because they're funny. So was I.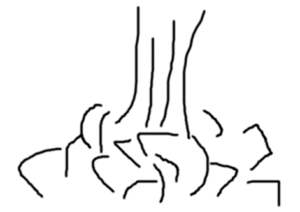 But much like a Loony Tune off a cliff edge, that falling energy has to go somewhere. In the cartoon, it's expressed as a small puff of dust as well as spontaneously-appearing bandages and casts. An electron doesn't have that option. It emits a photon. Didn't we just stick a photon in there? Yeah; and this maintains the balance. The electron loses the photon when its energy level drops again, sending it off in whatever direction.
Fun and all, but what does that have to do with anything? Recall last week when we were talking diodes. The electricity you're pumping through the diode causes holes to open up and drops electrons into them. Only now we know that those 'holes' are open orbitals spots and that dropping an electron into that hole makes a photon. In your standard silicon diode, there isn't much of an energy change; all you get are low energy, Jeb Bush-like infra-red photons. Let's say you made your diode out of a different base material. It takes more electricity to pull an electron out of its hole, but you get a more energetic photon when you drop it back in. How much more energetic? With the right materials, you get a photon that shows up as visible light. Bingo, you've got a Light Emitting Diode, or LED.
Now here's the really clever bit. Suppose you've got a diode hooked up without a power source. Its electrons have combined with its holes (again, as we discussed last week) and there's a zone in there where there's an electric field generated by the dopant nuclei. What happens then, if you poke your diode with a photon? A strong enough photon comes in knocks an electron out of it's orbital. The electron would normally drop back into place, but now you've got this electric field that's suggesting it move off in the positive direction. The newly-freed electron heads that way, the hole heads towards the opposite side. You don't get a photon back out, you get electricity. Sound like anything? That's right; you've invented a solar cell. Don't you feel proud?
Beyond the basics of the diode technology, solar cells really have very little to do with computers. LEDs show up all over the place but again aren't essential. Still, the time was right for a detour, and who's driving this bus? I am, that's who, and we'll stop where I please, thankyouverymuch. Next week we'll get back to simple transistor circuits in "Asleep at the Switch", or "Boolean Foolishness"
This is part five of my ongoing series on building a computer, the "it's not for sissies" way. You may find previous parts here: 1 (silicon) 2 (crystallography) 3 (doping) 4 (diodes and transistors), or all of them under the tag How to Build a Computer. This week's post has been brought to you by the Diner. For boomerang-pattern Formica and eclectic jukebox selections choose the Diner.