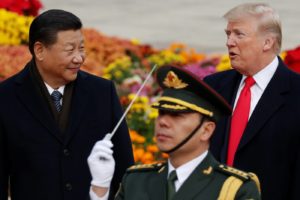 It appears the war of words is over between the US and China. Or, more accurately, the conflict is moving beyond just words. The Wall Street Journal reports: "Beijing said it would retaliate immediately after the Trump administration announced Friday that it will impose tariffs on $50 billion of goods from China, raising the potential for a trade war between the world's two biggest economies."
So, escalation. But how does it end? Probably not with China tweaking its state capitalist economic model anytime soon. That would require, if anything, a sustained, multiyear effort where, for instance, Chinese firms benefiting from theft of American intellectual property would face severe sanctions. As my colleague Claude Barfield argues, "Should Beijing remain obdurate against market-opening reform, the US should progressively close off sectors to Chinese investment and operations in this country. Further, in a progressive ratcheting up, Chinese companies should be excluded from US capital markets, including stock exchange listings and the use of American underwriters for capital offerings."
And this from AEI's Derek Scissors: "With China effectively closing its market through protection of state-owned enterprises and coercive technology transfer, the US is not obligated by any reasonable standard to open our market fully to Chinese goods, services, capital, or people."
Less promising are tariffs as leverage in pursuit of a deal. It's unlikely the US could inflict enough pain that way to substantively change Beijing's behavior ASAP, especially given that China views reaching tech parity and independence through industrial policy as an existential must. Also the losers in the US are likely to be those who can least afford it.
So what will President Trump accept as a win? How badly does he want a deal, any deal? Both the recent South Korea trade renegotiation and the North Korea talks show striking a deal to be important for the president. Trade deficits are a distraction, but Chinese concessions to reduce the bilateral trade imbalance would be one nudge toward a deal, given Trump's lifetime focus on them. But that is probably insufficient. And I doubt hand-wavy Chinese promises on IP and forced tech transfer would satisfy the White House's influential trade hawks, Peter Navarro and Robert Lighthizer, who've seen it all before. So maybe get ready for an economic cold war.
Yes, the Trump administration — and future administrations — must be prepared to play the long game against Beijing, which surely doubts the endurance of liberal democracies like ours, as I have written. But that's not all. Punitive trade actions will not stop China from getting richer and progressing technologically. It is too big, smart, and entrepreneurial. While making sure it plays by global trading rules that respect market principles, the US needs to implement a pro-innovation agenda, including more federal science investment and increased high-skill immigration, to keep the economy at the technological frontier.