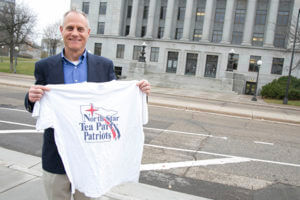 Last week's Supreme Court decision striking down a Minnesota law against wearing "political" T-shirts in the polling place might seem a matter of common sense. But that may just be the problem with it. While Chief Justice John Roberts's ruling is certainly correct, it leaves many questions unanswered — something that, unfortunately, can be said about a lot of his decisions.
The facts of the case were striking: Minnesota's law prohibited voters from entering polling places wearing shirts, hats, or buttons "designed to influence and impact voting" or to promote "a group with recognizable political views." These restrictions were so broad that when one justice asked if voters could wear shirts bearing the words of the Second Amendment, the state's lawyer answered no. What about the First Amendment? Fumbling, the lawyer said that would be okay … probably.
Such broad prohibitions, said Chief Justice Roberts in an opinion joined by six of his colleagues, are "a serious matter when the whole point of the exercise is to prohibit the expression of political views." The Constitution cannot tolerate restrictions on expression that are so vague that polling place workers could essentially choose for themselves what speech to suppress. States "must employ a more discernible approach" when regulating polling places.
True enough, but Roberts did not go on to draw any clear lines explaining what sort of speech limitations are or are not permissible. He never explained what "discernible" means — and it can't just be a matter of making the rules clear. A total prohibition on all speech, for instance, may be clear, but it's still censorship.
Thus Roberts's opinion is, ironically, too vague to tell state officials what the First Amendment requires. And the answer should have been easy. Minnesota's lawyers argued that the law was meant to prevent disruption or arguments in the polling place. But in fact it went much further, and prohibited "influence," too — and government should never ban "influence." All speech is influence, and as long as voters act peacefully and cause no disturbances, it's nobody's business what they wear. It's unlikely that a voter would change his vote because of someone else's T-shirt, but if so, then that's how free speech should work.
The Court said basically that 50 years ago, when it upheld the right of high school students to wear armbands protesting the Vietnam War, because there was no evidence that they were causing classroom disruptions. Surely adults voting on election day have broader speech rights than minors in government classrooms. And peaceful influence through free expression is a good thing.
None of this was discussed in the opinion, which, like so many of Roberts's rulings, is essentially confined to this specific case, and sets almost no helpful precedent for the future. This is a pattern for Roberts, who in the 2014 Bond case said the chemical weapons treaty did not apply when a woman tried to poison her rival in a love triangle — but failed to say what exactly the treaty does mean; and in the infamous Obamacare case, ruled that the Affordable Care Act went too far in threatening to withdraw funding from states that declined to expand their Medcaid programs — but also didn't invalidate the law because "we need go no further."
This refusal to go further is unwise. Led by a misguided desire to avoid "judicial activism," Roberts's opinions seem increasingly to focus on resolving individual cases, while avoiding statements of legal principle. But by not laying down principles rulings on what the Constitution means, this just ends up encouraging more lawsuits. And this shyness is unwarranted, because articulating principles isn't "judicial activism." As the great Chief Justice John Marshall put it, "it is emphatically the province and duty of the judicial department to say what the law is."
It's good that Roberts protected Minnesotans' free speech. But it's unfortunate that, thanks to his reticence, they can't know if their freedom will be respected again next year.