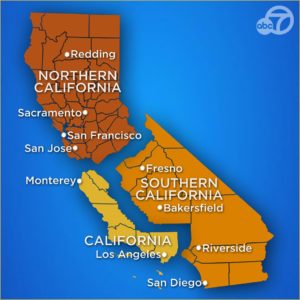 This November, California voters will decide if they want their once Golden State split into three. Wracked by high debt, ridiculous taxes, and severe economic disparity, this plan is intended to give residents more control of their state government.
The ballot measure was drafted by Tim Draper, a Silicon Valley VC gazillionaire responsible for two past efforts to divide Cali six ways. His modified plan for an unholy trinity is considered an improvement since each new state would be more economically sustainable.
"Three states will get us better infrastructure, better education and lower taxes," Draper said. "States will be more accountable to us and can cooperate and compete for citizens."
On Tuesday, elections officials projected that Draper got more than enough signatures to make the ballot.
The new map would create a centrist Southern California, including much of the agricultural heartland, Riverside, and San Diego; a leftist state called California, running up the coast from LA to Monterey; and an essentially communist state called Northern California above them both. (A better name for the latter would be "Woke-ifornia.")
If voters support the new map, both houses of the California Legislature would need to confirm it. Then it would go through the courts, the US Congress, and whoever sews new stars on the flag.
Quickly looking at the map, the problem for conservatives is quickly apparent. Instead of offering two bat-guano leftist senators, we'd end up with at least four and as many as six. No bueno.
Nevertheless, I support the plan wholeheartedly. Voters should split Cali thrice, have Sacramento give its blessing, and ship the paperwork to DC. At that point, Congress should endorse it … but only allow Southern California to remain in the union.
Let's be honest: Californian progressives aren't too happy with this whole American experiment. They regularly flout federal law while floating secession fanfic like #Calexit. The Supreme Court should cite "irreconcilable differences" and let the wayward spouse follow its heart. (Read all about it in the steamy Kamala Harris memoir, Eat, Love, Don't Pray.)
Meanwhile, the pro-military San Diegans, uber-rich OC-ers, and salt-of-the-earth inlanders can finally escape Sacramento's boot.
Perhaps the best part of this plan is that the cast-off Calis can finally prove to us dummies that anti-American socialism really works — it just hasn't been tried yet.
One last note to surrounding states: We're gonna need a wall. A big, beautiful wall.