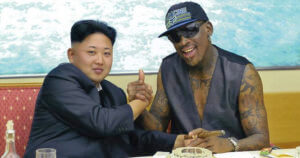 Trump and Kim had a deal negotiated long before Singapore. Despite a few speed bumps, that deal got done.
This is what happened: The US and Kim agreed to "Talk." That is all. Yes, it is true the US agreed to cancel military exercises on the Korean Peninsula (this drains the North's treasury when they feel compelled to place their military on high alert), and the North agreed to no more missile or nuclear weapons tests — not written, but implied. Other things (MIA's/POW data, etc.) were also agreed to, but we will not know about these for months or years. As for military exercises, the South wanted to give these up years ago to get peace.
The Talk: Going forward this will be a two-way dialogue between the US and North Korea, with China, S. Korea, and Japan in the wings. Trump left Singapore for the US, Pompeo headed to Seoul and then Beijing to brief them and lay out the next steps. This is the best possible thing that can or could happen at this stage. Well done.
The geopolitical reality is:
1. China uses North Korea for its advantage and as a club to beat the propaganda drum against the US military presence. China wants the US to be seen as a bad guy and provocation to gain influence and shape its image as peace-maker. But China is also annoyed with this dependent pest. It disapproves of North Korean nuclear testing, irresponsibility, and poverty that might lead to domestic problems for China.
2. Seeing opportunity, Putin plays a small hand in this too.
3. China has penetrated North Korean leadership. This is why Kim and company purge top military leaders often to ensure the survivors remain weaker, off-balance, and fearful. At the same time, Kim is dependent upon China (and to a lesser extent Russia) for vital materials, trade, and currency.
4. Kim sees China as a frenemy. He sees Russia as an opportunist and no more. There are eons of enmity between all three. China is vital to his survival, but not to be trusted. Russia can be used by Kim but is not always that useful.
No doubt, real estate magnate Trump delivered this message to Kim:
1. You threaten, I clobber. You respect, I will show you respect. You sound bellicose, I walk away (see what I did two weeks ago). Stay the course; this will accrue to your legacy.
2. We both need this. Every country that cooperates with the US, wins. See Europe and Japan. See China. Mess with us, you remain weak. Work with us, you are strong. See what I did at the G-7. I hold friends accountable, I destroy adversaries. Roar! Run with me and you can be seen as my equal or even better, as a Dennis Rodman.
3. Look around you, every Cold War socialist state is modern (except Cuba and they defy the US). Do you want to be that guy who lives like the last Stalinist hermit? Move on.
4. The technology is available today to allow an authoritarian socialist regime (e.g., China) to control its people, imprison its enemies and still have burgeoning, open, free markets. You can do the same. Free markets are what will make you free and independent of other states as their patsy and allow you to dominate at home. Taking this step with us will show you to be a stronger leader than your predecessors.
The solution to the geopolitical situation in North Korea is the same solution Kim's grandfather and father sought back in the 1950s, '60s, '70s, … , merger with S. Korea under the leadership of the Kims. If the US agrees not to interfere with any rapprochement so long as it is done peacefully, Kim might move. But he must be free to negotiate the terms for merger, alliance or cooperation with S. Korea. If he can do that, he will gain enough strength to deal with China, and Russia on a more even-handed basis.
So Trump has no doubt suggested to Mr. Kim, that he and his family, can rewrite Korean history by achieving cooperation on his own terms with the South. However, if he merged with S. Korea today, he would disappear in two weeks. So first he must build economic power in the North – as he chooses. That means entering the modern world to get access to free trade accords. The US can make that happen overnight. Think about it; for Kim, this bends the arc of history, and more importantly, Kim makes history.
What Trump is offering is a Plan B to the Cold War Plan A that Kim's grandfather and father followed:
1. Transition the propaganda slowly to become a friend with the US – or at least portray the US as weak and flexible and crumbling before his might. He can say whatever he likes, but he needs to turn off the threats, stop the missile flights, and end the nuclear testing.
2. Work to find a way to bring his people around to the idea that the imperialist US is falling under his great leadership while retaining power.
3. Take his time, but he has about two years to get rid of the nukes and sign a peace treaty with the US.
4. If between now and then he misbehaves, we will pull out and finish him off. Not a threat. We just need to wrap this up (there is other business to take care of, see below). We prefer to work with Kim. But time has run out. He is a threat to Alaska and Seattle. We will not allow that.
5. Kim can make up any story he wishes to explain all of this back home. But he needs to understand this is a one time offer. He can win the Nobel Peace Prize (heck Obama and Gore won one, and they did nothing for peace). So Mr. Kim, let's show the world what a great man you are.
Here is a bonus that we might offer to Mr. Kim. The peace treaty might have a clause, if he wishes, providing that the US will protect the territorial integrity of Korea (no North, no South). Kim and the South Korean leadership can decide what this means and what assurances or military support is required individually or together. With an American assurance of territorial integrity for both (individually and combined) backed by a security agreement, he will no longer need to look to or fear China or Russia. This treaty would require Congressional approval (vote against that Democrats). Kim can chart a course that is more free from dependence upon China, and to a lesser degree Russia. These bordering countries are North Korea's real long-term geopolitical problem, not the US.
Any security agreement should have a termination date (10, 20 years). At some point, the Korean Peninsula needs to stand on its own. This will be part of a larger solution, and should not be seen as a permanent basing of American forces or a challenge to China (or Russia), but a transitional accommodation.
The end result of a Trumpian or Kimian Deal could be the final closure of the Cold War in Asia and a reconstruction of the geopolitical balance. Russia is still capable of stirring up trouble, but Russia is the 11th largest country in the world – though #1 in terms of natural wealth – its Pacific forces are weak while China's power grows. Kim's leverage in dealing with both going forward could be immense if he is holding a security agreement from the US and the potential for a long-term mutual understanding with the South. He could use this to play an invaluable role for the South Koreans – assuring his and their survival – and greater power for both Koreas.
Other points to consider: If the US can disrupt the geopolitical balance on the Korean Peninsula and neutralize Kim as a threat, it will no doubt affect the trade in missiles, nukes, WMD's and other illicit arms deals (and other criminal activities) around the world (see North Korean trade with Iran, Pakistan, Yemen, Hezbollah). Further, a success with North Korea will leverage US prestige and power to stand firm with Iran (which it is now undertaking). And it will weaken Cuba, Venezuela, Nicaragua and the other rogues, punks, and miscreants. Even an obstreperous Turkey and the Europeans (still pretending they are not living as American dependents) might see things differently. America ascendant.
The Cold War really is over. We need a different strategy and that begins by seeing the world in more realistic terms. It is not so linear or equally offsetting as it was during the Cold War with two (1.5?) Super Powers. We cannot allow the cockamamie UN, the EU, or other international agreements to define, resolve, or paste over American interests. We will cooperate with those who cooperate fairly. And, we should not be afraid to express intolerance, engage, and confront those who do not to assure freedom of the seas and protection of vital American interests (including trade balances), if necessary. A few rounds of straight talk and things will get back to the post-Soviet stability and balance. And America's power will grow, eliminating the need to call upon it as often. Right now, we are somewhere in between chaos and order, a dangerous time.
A return to the apologist, feckless Obama approach will return the world to the pre-Trump chaos which frittered away the last sinews of American resolve during the national vacillation over Iraq. If all this sounds like Nixon to Beijing in the aftermath of LBJ and in the midst of the malaise of winding down Vietnam, it is. With a North Korean deal, Trump is positioning the US so it can focus on knocking-back Iran, and simultaneously send strong messages to Putin and Xi to watch their step. Ironically, this would be a restoration of the liberal world order the liberals and foreign policy establishment frittered away after the Soviet fall.
Kim is no apprentice. His position is much weaker and tenuous than we realize. He has nukes, words, and not much else. He has a way forward to live a long life (maybe with an apartment in New York?). China and Russia are using him and he realizes this is the real threat. He is attracted to bizarre celebrities (see Dennis Rodman). Trump may be just the right cocktail of celebrity and flash for his taste – lots of gold plated faucets, luxury and gaudiness. And now because Trump showed him respect, Kim is beginning to show the world he knows the art of the deal.