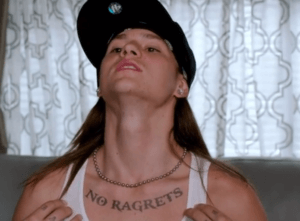 This topic has been bouncing around my head for a while, but I've never gotten around to writing it. Someone on Ricochet will mention something, Jay Nordlinger months ago on a podcast complained about tattoos or a user whose name I forget recently said he was up for a good tattoo rant. Other times I see someone and think why?
I noticed markings on Dana Loesch's arm in a Parkland CNN screenshot or a cross on a pastor's back at a church swim party. Tattoos seem to be everywhere and there is no demographic that is exempt. This will come across as a get-off-my-lawn rant, but here we go.
I guess I'm a Generation X person. I still remember that about the only people who had tattoos were military veterans or criminals and they might only have one or two, no sleeves or multiple ones covering a lot of the body. Others might have had them, but they were in a private location. Maybe it was just where I grew up.
Some point along the way, tattoos became more mainstream. In the '90s a lot of girls were getting lower back tattoos, but they were derided as "tramp stamps". Then it seemed as though they exploded on the scene and everyone had one. Yes it's me, but I have yet to see a tattoo that improves a woman's appearance. As G. Gordon Liddy used to say, putting a tattoo on a woman is like putting a bumper sticker on a BMW. I will be glad when I don't see ink everywhere I look.
Maybe things are changing. I saw this on Twitter. I don't know what drove it, but we might be on the downward side of the trend. I can hope.
We have reached full mainstream tattoo saturation, it is now far edgier to not have tattoos. So it flipped on me and now I'm the dork. Crap.

— Chris Loesch (@ChrisLoesch) May 30, 2018
.