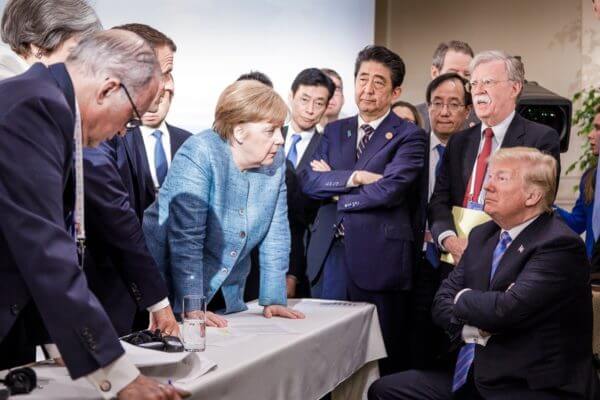 Trump was in rare form Saturday at the G-7 press conference. It's hard to argue with his thesis that free trade should be a two-way street. Trade concessions from our friends and adversaries alike must come, and I think they will come. I am a free trader. I believe a free exchange of goods leads to prosperity on the national and international level. I read Adam Smith and David Ricardo. Comparative advantage is a magical thing. But free trade has to be a two-way street. Let all countries reciprocate the free market access that we extend to them. I call for an equitable reduction in tariff and non-tariff barriers that benefits all countries.
When libertarians say that other countries' tariff rates are none of our business, that's a load of nonsense. Does this policy extend to all aspects of foreign policy? It's none of our business when other countries block sea lanes? It's none of our business when they invade and occupy their neighbors? Is it our business when countries sell nuclear and chemical weapons all over the world?
This is not a serious position. It is what I would like to call "the one-way street" approach to free trade. The idea that since free trade is beneficial it should be undertaken without reciprocation is extremely flawed. This approach may be the optimal one if you are a small country like Chile with no international market power. However, the US economy represents 22 percent of global GDP. That is power.
Of course, neither I nor President Trump intends to use this power to hurt other countries on trade. Proof of this is the fact that at the G7 meeting, our supposedly "protectionist" President floated Larry Kudlow's idea for a tariff-free G-7. Yes, you read that correctly: Trump offered to eliminate all US tariffs on goods from G-7 countries if G-7 countries agree to reciprocate! Did you hear that? That was the sound of our mealy mouthed allies running out of excuses for continuing their unfair trade practices. It's time for our allies to put up or shut up.
European sophisticates love to lecture Trump and his supporters on multilateralism and politeness, but they should practice what they preach. The German schoolmarm Angela Merkel, pictured above lecturing our President, needs to explain why the winner of WWII has to pay the loser four times the tariff rate on car imports. If our trading partners want free trade, it should be free trade that benefits everyone. No more protection of favored business interests. No more byzantine regulatory excuses. No more!
SaveSave