Designers of perennial gardens often tell gardeners to "buy the foliage, not the flower." It's certainly good advice for some perennial gardens. Most perennials are in beautiful bloom for only about two weeks out of their 52-week yearly life. As they are coming and going from this peak, we can add two weeks on either side of that peak where the plant is pretty to look at in a garden. But in general, we are looking at a sea of foliage for most of the growing season. That unbroken expanse of green is the reason most perennial gardens have some annuals tucked into them as a way to give them some color when the perennial blooms are fading.
I am not a gardener–just a weekend hobbyist who passes her daydreaming time designing gardens. I've set up a few perennial gardens, both for me and my neighborhood's garden. In doing so, I've experimented with lots of different plant collections. I've tried to choose plants for a single garden that will all be in bloom at the same time to create a flower bouquet effect. And other times I've tried to choose plants to create small groups within the larger garden as a whole such that the small groups of flowers will bloom in sequence so that one part of the garden will light up with flowers for a couple of weeks, then quiet down, while another part of the garden lights up with color.
Doing these things has focused my attention on garden design. The look of the garden and the bloom sequence are shaped by the designer's purpose. If the gardener is running a school garden and the school has a graduation program and then shuts down for the summer, a spring-flowering garden would be best. If the designer is working on a bed-and-breakfast inn that is at its busiest over the summer, then he or she will skip the spring bulbs and go straight to a garden filled with summer-blooming colorful bee balm and day lily plants.
Of course, the list of challenges for garden designers is long: drainage, slope, soil, shade and sun, air circulation, plot size, slugs, rabbits, and deer, to name a few. In my yard, my greatest challenge is the rabbit population. And even though I start thinking about flowering plants by looking the list of plants rabbits usually avoid, hungry baby rabbits, as adorable as they are, will eat or sample just about everything. Sometimes I think they simply play with tall flower stalks, although I'm quite sure I would be told by the experts that rabbits lack the capacity to actually play.
Everyone probably knows this, but I get a kick out of it: if the cut in the plant (the leaf or stem) is clean, it's a rabbit. If it's jagged, it's a deer. No surprise. Rabbits are calm. They really aren't as skittish as the deer are. For obvious reasons. Deer are much bigger animals and much easier to prey upon. They keep moving! They tend to grab and go when it comes to the greenery they eat. Rabbits can hide in the grass or garden and take their time munching.
Given the assortment of challenges and goals gardeners have, I don't think the "buy the foliage" advice is always the definitive last word on perennial garden design. However, I have a little garden that seems to prove the worth of the advice for a lot of situations.
I built this little garden just outside the back door of my garden shed. It was a spot in the yard that was getting a good hit three times a week of water from the sprinkler system. The weeds loved the water and were the healthiest in the state of Massachusetts. So about ten years ago, I dug out the weeds, and I dug down a foot or so and removed the worn-out dirt that was there. I threw in a couple of bags of garden soil. I found some plants around the yard and plopped them into this little garden. I put some mulch on top. No more unsightly weeds. And then I forgot about it.
The three hosta plants I put in and the maroon heuchera did pretty well the first year. I added a little white geranium, and the silly little garden shed garden that no one but me ever sees started to do very well and be very pretty. The Fire and Ice hosta is a favorite of the rabbits, but I can spray the garden with the rabbit repellent because the garden shed is next to it. Sometimes they get the leaves, and occasionally a flower stalk, but there are enough leaves and flowers left to make a pretty display. And I don't mind sharing once in a while.
The next year I added more soil and some white astilbe. From my kitchen window, I can see the tall white astilbe blooms and pink heuchera blooms, which come out at the same time. It is pretty.
Over the years, I have added a little miniature stone wall in front of the garden–it has been a great place to collect the stones I dig out of the other gardens.
I started fertilizing the little garden and adding more bags of garden soil. I put a small blue hydrangea at the far end. I added more seasonal annuals such as impatiens in the summer and mums in the fall. This year I've put in some dark salmon geraniums.
Last fall from another garden where it wasn't doing very well, I moved into this little spot a pretty and delicate variegated Jacob's ladder plant (also sometimes called the "stairway to heaven plant"). This plant gets its name partly because of the way the leaves are arranged on its stems–two leaves arise oppositely from every single node along the stem, which produces a ladder effect. Jacob's ladder is admired for the tiny blue flowers that appear in May and June. But mostly the variegated version of this plant contributes bright foliage throughout the growing season.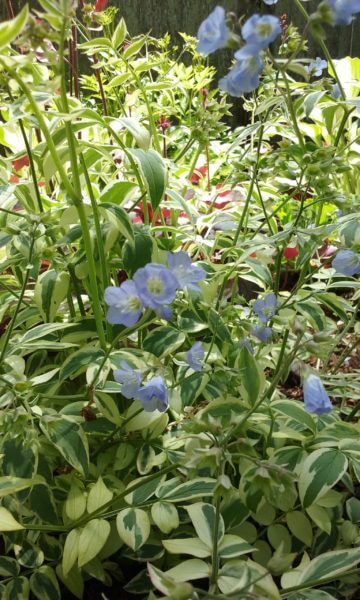 I like this plant because of its history. I read this story years ago, but the New England Wild Flower Society (NEWFS) no longer tells this story on their website. So you'll have to trust me on this too. One year, one of the NEWFS interns (or perhaps it was one of their very young new employees) was carrying a tray of Jacob's ladder plants across the yard. He looked down and noticed a variegated plant in the tray. So, on his own, he started to propagate it to see if he could. He was successful. Variegation–white and green leaves instead of all-green leaves–is usually caused by a random genetic mutation. The variegation comes and goes and is hard to stabilize. That's why if you have a variegated plant, growers will say to cut off any all-green leaves and stems. Otherwise, you'll lose the variegation. It's also hard to propagate a variegated plant–the laws of genetics and nature are working against the effort.
The New England Wild Flower Society started to sell the new plants at their spring fundraisers. It was admired by the visitors to the center, including some of the major plant growers in the country. They wanted to propagate it and sell it too, and they made an offer that the society accepted: every time someone buys a variegated Jacob's ladder, some small royalty goes to support the Garden in the Woods, a public garden built and maintained by the NEWFS for the purpose of preserving New England's native woodland plants.
So here is a picture of my little garden this year. The Jacob's ladder's delicate blue blossoms are going by now, but its foliage will remain pretty most of the summer. This is a small garden in which the foliage takes center stage.