As the illustrious @JohnWalker no longer treads these halls, I figured there was an opportunity to thrust my metaphorical booties into his clodhoppers. I've been kicking the idea of this series around for a long time. Broadly speaking it covers everything you need to know to build a computer. Everything. Today, we're going to learn how to make silicon wafers.
He's Gone Silicon
Start with silicon. Except we can't start with silicon; you've got to get it from somewhere. Start with sand. (I can hear someone in the back asking where I get the sand. Well, they mine it in Wisconsin these days, but mostly to ship to the North Dakotan oil fields. I don't know where the computer industry gets its sand, but if you can't find any you aren't trying.) Sand, chemically, is SiO2. Close, but we need less O. To render it into pure silicon you heat it up to about a fifteen hundred degrees commie in the presence of coke. Uh, the fuel, not the nose candy. This is the chemical reaction:
SiO2 + 2C -> Si + 2CO
Or possibly this one. Probably both; my sources gave me differing answers.
SiC + SiO2 = Si + SiO + CO
This gets it fairly pure, but you need really really pure. (So pure that only one really won't cut it.) With the 96% pure stuff you get out of that reaction, you make tetrachlorosilane. That's one silicon atom with four chlorine atoms stuck to it. You could also make trichlorosilane, which has one hydrogen atom instead of a chlorine. In either case you've got a silicon compound that's readily made into a vapor. With that you can use fractional distillation (like with petroleum, or pappy's still out back) to increase the purity. This stuff has got to be not just 99.9% pure, but 99.9999999% pure.
Okay, but you can't make devices out of a gas. You want to reduce that, using something called the Siemens process. You take a rod of (also very pure) silicon. Heat it up to about a thousand degrees C. Then mix your trichlorosilane with hydrogen gas. One more chemical equation.
2SiHCl3 + 2H2 -> 2Si + 6HCl
You get hydrochloric acid out, and silicon. Great! But you can't just make wafers out of that. I mean you could, but then you'd end up with solar panels, not microchips. What you've got now is referred to as 'polysilicon' because the crystal structure is all over the place. To make proper transistors you need it to be monosilicon, which is all one big silicon crystal. So we melt the stuff.
One Big Crystal Coming Right Up!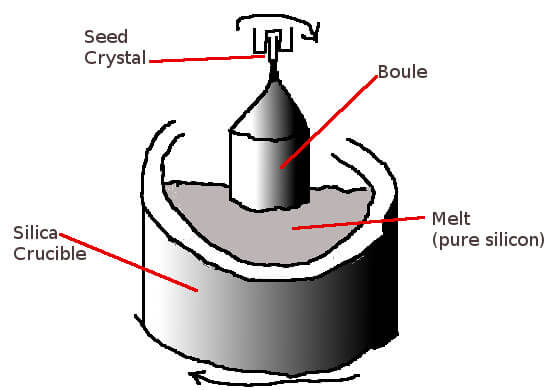 We make a single huge crystal of silicon out of the melt by means of the Czorchalski growth method. Say it with me. "Cho-RAL-ski". That was pitiful. Try it again. "Cho-RAL-ski". Eh, close enough. You melt your silicon in a big crucible made of silica. That way when the crucible mixes with the molten silicon, all you're getting is more silicon. And oxygen. There are reasons why you might want oxygen in your otherwise pure wafer. You want to keep the temperature of your melt just above the melting point. Then you reach down with a seed crystal into the melt and slowly pull it back up.
The surface tension of the silicon will cause the liquid to rise up above the melt. The greater surface area causes it to cool off. By carefully controlling the temperatures you can get the molten silicon to freeze onto the crystal. Because it's already a single crystal all your solidifying silicon will stick itself into the lattice and extend that crystal structure. The diameter of the cylinder you get depends on how quickly you pull the crystal back out.
There's another way to get your monocrystal. It's called the float zone method. You take a column of your very pure polysilicon. You run an infrared heating coil up and down it. The coil heats the silicon in the space directly below it to the melting point. The silicon has enough surface tension to keep the column together. Again, when the molten silicon hardens next to your seed crystal it takes up the already existent lattice and reforms into a single crystal. (So where do they get the seed crystals? Out of previous runs. And where did they get the first one? Good question; I don't know.)
Breaking Down your Boule
What you get after that is called a 'boule'. Don't ask me why. You grow your boule a little wider than you need so you can grind it down afterwards. That lets you control the size much more finely than Czorchalski ("Cho-RAL-ski") growth does. These things grow anywhere from 75mm to 300mm (roughly three inches to one foot in diameter). They're also capable of making 450 mm wafers, but the benefits of the larger size aren't sufficient to upgrade all the machines in your wafer fab to handle the larger size. If it's one of the smaller ones (up to 150 mm, or six inch wafers) then you grind the edge of your boule to tell the customer what kind of wafer it is. On the larger ones they just grind a notch out of the edge, and scribe that information on with a laser.
You take your long cylinder of silicon and slice it like salami. You use a diamond wire saw to cut it into wafers. The wider you made your boule the thicker you need to make your wafers; they have to support their own weight. You've got wafers now, but they're not ready to ship yet. These things need to be real flat. The smaller the features you're putting on it the flatter it needs to be. No matter how straight you aligned your saw it isn't straight enough. You use a process called "lapping" to smooth it out. It's a planarization process that uses mechanical polishing and some sort of slurry. While you're at it you should grind that edge down; it makes it harder to break your wafer afterwards.
Lapping your wafer left it with a bunch of micron-sized scratches in the surface. Etch that sucker down with some really nasty acid. acid. It's still not smooth enough. You can smooth the wafer surface through something called chemical mechanical planarization. Still not flat enough! Nah, I'm kidding. We're good. Clean 'em and ship 'em.
Now that we've got silicon wafers, we can start to build transistors. Exciting! Join us next week when we dive into the intentional and accidental defects in the silicon in "Doping: Semiconductors the Lance Armstrong Way", or "Gettering R Dunnering".
This is part one of my ongoing series on building a computer, the Richard Dean Anderson way. You may find all of them under the tag How to Build a Computer. This week's post has been brought to you by the Society for the Promotion of Chippewa Valley Sand. When you go pound sand, make sure it's Chippewa Valley Sand.