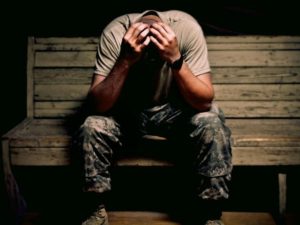 Our veterans are dying in increasing numbers—at their own hands. I was moved to explore this topic thanks to Nicole Fisher of The Federalist's recent article. She quoted a Department of Veteran Affairs study published in September 2017:
More than 20 veterans commit suicide each day, a number, on average, 22 times greater than the civilian population. In fact, veterans' suicides account for 18-20 percent of suicide deaths in the country, while they make up only about 8.5 percent of the adult population.
In spite of the staggering numbers and efforts to deal with the situation, the totals continue to rise.
More than just overwhelmed by the tragedy of military suicides, I was surprised to learn that traumatic overseas events don't seem to be the source of these actions:
Instead, research indicates feelings of shame or guilt trigger the emotional, mental, and physical reactions that lead to suicide. This is guilt about what soldiers did to others and shame of not being able to save the lives of those around them. These issues have led to a particularly high rate of self-inflicted death among female veterans. Shockingly, the suicide rate for female veterans is 250 percent higher than that for female non-vets.
Traumatic brain injuries are also contributors to suicidal acts.
National Institutes of Health also conducted a study of our veterans:
After controlling for age, sex, race, marital status, branch of service, and rank, deployed veterans showed a lower risk of suicide compared with nondeployed veterans. Multiple deployments were not associated with the excess suicide risk among deployed veterans.
In another article citing the Department of Veteran Affairs study, state-by-state figures were cited. As of 2014, states such as Montana, Utah, Nevada and New Mexico had some of the highest suicide rates. Many of these veterans had to drive 70 or more miles to a VA medical center. Rajeev Ramchand studies suicide for the RAND Corp. He had these comments about the results attributed to the states:
Ramchand said it was hard to pinpoint specific causes behind veteran suicide but likely involved factors more prevalent in rural areas, such as social isolation, limited health care access, gun ownership and opioid addiction. Nationally, 70 percent of the veterans who take their lives had not previously been connected to VA care.
Ret. Army Sgt. Shawn Jones, executive director of Stop Soldier Suicide, suggests that community support is part of the solution:
'It can be tough because the military is a close-knit community and you have that familial feel,' Jones said. 'As you transition out, you tend to lose that a little bit and feel like an island onto yourself.'
There has also been a big push to make private-sector care available to veterans. Allison Jaslow, executive director of Iraq and Afghanistan Veterans of America and a former Army captain, suggests that this type of care won't be a simple fix, either:
'Veterans often have more complex injuries,' said Allison Jaslow . . . citing limitations if civilian doctors [who] don't understand the unique challenges of the veterans' population. 'If doctors don't ask the right questions to a veteran complaining of back pain, for instance, they may prescribe opioids not realizing the veteran was also suffering PTSD or brain injury after being blown up in a humvee.'
There are steps being taken to deal with this long-term problem. The Concerned Veterans of America advocates for veterans and has been promoting the VA Mission Act to fund the current Choice Program. The bill passed the Senate on May 24 and has gone to the President's desk. This was a priority for lawmakers and the VA, too, since estimates showed the Veterans Choice Program would be out of funds as early as May 31, 2018. The VA MISSION Act solves that problem by funding the current Choice Program while the VA works to implement the integration of community care programs and expand choice.
In May 2017, the Department of Energy and VA also teamed up to improve care for veterans.
In spite of the critical need to develop solutions to help our veterans, the VA is a rudderless ship. There is no leadership at the top. President Trump showed an interest in nominating Acting Secretary of the VA, Robert Wilkie, to the position. But Wilkie can't be nominated unless he steps down from his current role. The nomination drifts in limbo.
Does anyone else know of other productive, practical steps that are being taken? Do you have ideas for resolving this mammoth issue so we can serve, honor and care for our veterans? The Department of Veterans Affairs is making, at best, some effort to deal with this chronic and devastating problem; at worst, it is an embarrassment to this country and a travesty for our veterans.