If you've ever encountered Roseanne Barr on Twitter, you know she is a bit … off. She regularly shares insane musings, personal attacks, and conspiracy theories that would make Alex Jones think the chemtrails finally got her. Roseanne's always been this way, regularly attracting attacks from the left, right, and center. (Remember the conservative reaction to her ugly rendition of the National Anthem?) On Tuesday, she stepped in it big time with a tweet so bad that ABC cancelled her hit sit-com reboot hours later.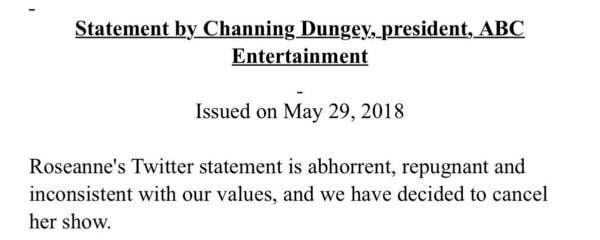 What did she say this time? Earlier Tuesday morning, in a now-deleted Tweet, Roseanne took aim at former Obama adviser Valerie Jarrett, identifying her by her initials: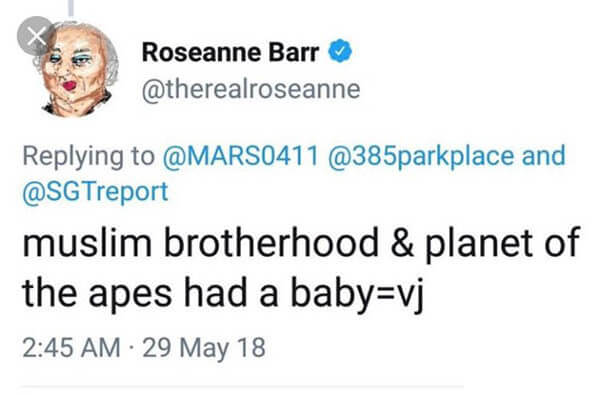 She later claimed it was a joke and apologized, but the internet is forever (as the above screen-cap shows). Racism can't be deleted as easily as a tweet.
https://twitter.com/therealroseanne/status/1001471669641216005
Roseanne's co-stars registered their disgust:
I am hurt, embarrassed, and disappointed. The racist and distasteful comments from Roseanne are inexcusable.

— Emma Kenney (@EmmaRoseKenney) May 29, 2018
I will not be returning to @RoseanneOnABC.

— Wanda Sykes (@iamwandasykes) May 29, 2018
And in just a few hours, ABC pulled the plug on their biggest surprise hit.
Many Twitterers on the right claim that Roseanne was victimized by a politically correct mob just because she supports Donald Trump. If they fired her over Tweeting "I'm on the Trump train," they'd have a point.
Instead, she was canned because she said a black woman was half-ape. Roseanne was fired for being a disgusting racist.
And, as a result of her idiotic idea to document her racism on Twitter, she got her entire cast and staff fired along with her.
For Roseanne's part, she now says she's quitting Twitter. Probably should have done that last night.