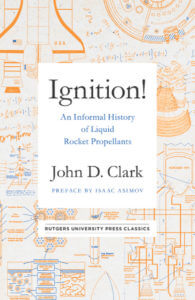 Today, rocket science commonly refers to anything dealing with space. Originally, it meant rocket design, especially fuel development. "Ignition!: An Informal History of Liquid Propellants," by John D. Clark, harks back to those day. While informal, it is a comprehensive account of rocket fuel development.
In "Ignition!" Clark reveals what went on behind the scenes in the early days of rocketry. He was the perfect man to do so. A pioneer rocket scientist, an active chemist from the early 1930s, between 1949 and 1970 he was one of the leading developers of liquid rocket fuels. A talented writer (publishing science fiction in 1930) he knew all the players, inside and outside the United States.
Clark shows what made rocket science challenging is not that it is difficult. It is that rocket fuels are very finicky. Do anything wrong and the rocket does not go whoosh. It goes boom.
Clark shows all the ways they go boom. He explains what makes a good rocket fuel, shows readers what works and shows readers what does not work and why. He starts with Tsiolkovsky in the late 1800s, and ending with the Saturn V and the moon missions in the late 1960s.
His focus is on the golden age of rocket fuel development, from 1946 through 1961. Those years saw development of the liquid fuels still used in rockets today, with a lot of dead ends. Clark spends chapters on the dead ends, such as peroxide fuels and monopropellants. Frequently those chapters are books' most entertaining.
There is chemistry involved, including formidable chemical equations. Readers unfamiliar with chemistry should skip them. They are for the chemistry geeks reading the book. Between the equations are what makes the book entertaining; the technician attacked by bats after a fuel test, the propellant developer who took a year off to develop hula hoops and many similar stories.
"Ignition!," originally written in 1972, is back in print after a long hiatus. A classic book, it tells a rollicking story of an era when space was the frontier. An informative history, it reads like an adventure story.
Ignition!: An Informal History of Liquid Propellants," by John D. Clark, Rutgers University Press Classics, 2018, 302 pages, $24.95
---
I write a weekly book review for the Daily News of Galveston County. (It is not the biggest daily newspaper in Texas, but it is the oldest.) My review normally appears Wednesdays. When it appears, I post the review here on the following Sunday.