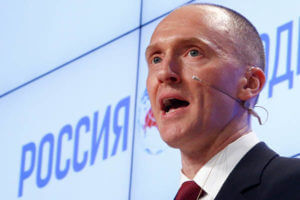 Carter Page, the former Merrill Lynch banker, is no doubt very ambitious. He tried to leverage his degree, his business savvy and his Russian Rolodex to untold riches. And while his ambition and naiveté may have led him to be a recruitment target for Russian intelligence in 2013, he's no dummy. He helped the FBI in their prosecution of Russian intelligence operatives and knew well that he was at least one of the "idiots" that Russian spies had targeted as a source of American intelligence. It defies all logic to assume that subsequent to his FBI cooperation, Page would allow himself to be targeted a second time as an intelligence source by Russian spies, or that Russia would attempt to recruit him. Page may be an idiot, even something of a Russian apologist and Putin fellow traveler, but he's not stupid
Very early on, Obama and his inner circle were well aware of Page's Russia background and cooperation with the FBI and the Justice Department. He was implicated in the Steele Dossier and claims these implications are entirely false. We know that this Dossier is uncorroborated and that it was paid by and prepared for the Clinton campaign and the DNC. Yet this Dossier was used to obtain warrants to surveil Page. Page has not been charged with any crime.
The real question is this: why implicate Page in the Dossier? Why?
The answer is simple. Because it provided what seemed to be a smoking gun in the collusion allegations – a Trump advisor, in Russia, meeting with Russians, admitting that the sanctions may have come up. This was immediately reported in the worst possible light by Yahoo News, a report we now know was fed to them by none other than Steele, the author of the Dossier. Page denied those reports and sued Yahoo. The Yahoo report was later cited as corroboration of the Dossier, though those making that claim knew, or should have known, that both relied upon Steele as the sole source of the information. In fact, Steele initially lied about his meeting with Yahoo and was later discredited and fired by the FBI for misleading them.
How very convenient that Carter Page, an international carpetbagger who hitched his fortunes to Russian energy (and even wrote his doctoral thesis on the topic), is suddenly the broker who helped coordinate Russia's aid to the Trump campaign, namely the Wikileaks email releases. Forget about Comey's announcement of the missing Clinton emails on Wiener's laptop and the reopening of the email scandal investigation (albeit for a very brief time, "nothing to see here – move along.")
Funny thing: the inner security folks in the Obama White House knew about Carter Page and his Russia ties. They also knew about Manafort's ties to pro-Russia people in Ukraine. We know that Obama officials contemplated, but did not provide, the Trump Campaign with a heads-up in either case. Instead, they went in a different, more convenient, direction.
That is the path we are now retracing. The Obama team thought they saw smoke. It may well have been just Obama sneaking a Kool out in the Rose Garden.