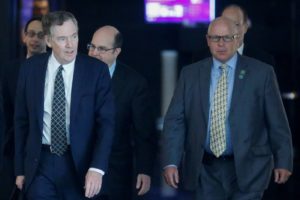 This isn't a shock: China's Foreign Ministry now says Beijing hasn't offered to cut its nearly $400 billion trade surplus with the US by $200 billion. Well, yeah. This rumor — perhaps just 3-D psychological chess from Team Trump — always appeared dodgy.
Because math. And because reality. Can a US economy with capacity utilization at a three-year high and unemployment at a 17-year low boost production by that much? Look at it this way: Aircraft ($16 billion) and soybeans ($12 billion) were the two biggest US exports to China last year. As Reuters points out, China would have to buy 667 more Boeing commercial jets a year to meet the $200 billion goal. (Boeing, by the way, made 763 such planes last year and has an order backlog for 5,654 jets.)
Or this: Even if China bought all US agricultural exports, that only gets you to $140 billion. You only hit that $200 billion number "if the US sold China all, or nearly all, of its yearly oil production." You see my point. Focusing on trade deficits is a distraction, more about macroeconomic factors and how you analyze supply chains. (Hal Varian, Google's chief economist, explains in the Financial Times that the overall US trade deficit could technically be halved if statisticians were better able to capture the value of the American-developed software embedded in smartphones worldwide.)
Rather, the core issue of US trade talks with Beijing: China's decision to get rich through protectionist state capitalism. That's why Trump's recent tweet about saving Chinese telecom giant ZTE from US penalties is problematic. Chinese companies should pay a price for breaking our laws, whether it's evading US sanction or swiping US intellectual property. As AEI's Derek Scissors wrote earlier this week, "If you want to 'beat China,' you don't rescue ZTE, you target many more Chinese state firms. . . . Hurting giant state enterprises hurts the Communist Party."
My AEI colleague Claude Barfield offers an alternate path: To get ZTE to the negotiating agenda, China should remove antitrust objections to Qualcomm's $44 billion takeover of NXP Semiconductors, as the US company moves to become a leading global supplier of automotive microchips. (US negotiators should also pursue a WTO investigation into Beijing's announced $40 billion subsidy program for the Chinese semiconductor industry.)
More broadly, the US should demand that China a) open more sectors are open to foreign investment, b) cease the forced transfer of technology, c) strengthen domestic IP laws and regulations, d) curtail commercial cyberespionage under threat that Chinese firms benefiting from such IP theft get banned from the US market, and e) halt its subsidies to advanced manufacturing industries included in the Made in China 2025 plan.