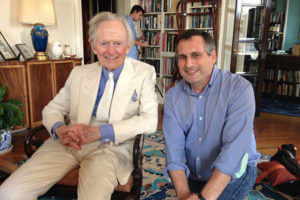 The Peacock Inn in Princeton during the summer of 1979, when, having just graduated from college, I was interviewing for a job in New Jersey: Radical Chic & Mau Mau-ing the Flak Catchers. My room at No. 2 Brewer Street in Oxford in 1980, when, now a graduate student in England, I was feeling intensely homesick for my own country: The Right Stuff. The bookstore near the corner of Seventeenth Street and Pennsylvania Avenue in Washington, D.C. in 1984, when, a White House speechwriter, I had read all the government memos I could stand for one day and slipped out of my office in the Old Executive Office Building in the middle of the afternoon: the first installment, in "Rolling Stone," of Bonfire of the Vanities. Tom Wolfe's prose wasn't just prose. It was an event. I can recall where I was when I read each new work by Wolfe just as clearly as I can recall where I was when men landed on the moon or the Berlin Wall came down.
When a friend introduced me to him years later—by then I was at the Hoover Institution, and he spent several long stays at Stanford, researching university life for the novel that became I Am Charlotte Simmons—I learned that the man who wrote prose in the style of "machine gun rococo" (Joseph Epstein's phrase) proved understated. A gentleman of a particular kind, a southern gentleman, as quiet and kind and wry as if he had never left Richmond, Virginia, the city in which he had grown up. When I drove him back to Stanford after our meal, Tom sat in the car for awhile, chatting. He had read my first book, my memoir of business school, Snapshots from Hell: The Making of an MBA. "You're a writer, you know," Tom said. He might as well have pinned me with a medal.
A word about this video.
When the Blue Yeti got in touch to arrange the shoot, Tom hesitated. Not long before, he explained, a television crew had damaged a piece of furniture—Tom lived in a beautiful apartment in a classic, pre-war building between Fifth and Madison. Infuriated, Tom's wife, Sheila, had declared that she would never permit a crew in her home again. Then Tom turned conspiratorial. Checking the calendar, he found a morning when Sheila would be at the dentist's. When the Blue Yeti assured Tom that the crew would arrive after Sheila had left and depart before she returned, Tom made it a date.
It almost worked. Tom welcomed us to an otherwise empty apartment—he had even ensured that the housekeeper would be out. The crew set up and we recorded the interview. But before the crew had finished breaking down the equipment Sheila returned, a good twenty minutes early. While the Blue Yeti and the crew went into double-quick mode, packing up as fast as they could, I lamely attempted to distract a cross Mrs. Wolfe with small talk. Sweetly amused, Tom hung back, doing what he always did: taking it all in.
.