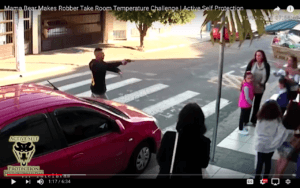 A video showing an armed plainclothes Brazilian police woman fighting back against an armed attacked has gone viral and is popping up all over my social media feed. My friend John Corriea breaks down the video from a tactical perspective on his YouTube channel, but caution: There is no blood shown, however, someone does wind up assuming room temperature. The video itself and how's it's gone viral, though, have some interesting implications for the larger efforts to fight back against gun control and keep and expand our right to self-defense.
One of the methods currently used by those opposed to the right of self defense is the proven strategy of making guns "uncool," and holding gun manufacturers liable for their misuse, which is essentially the same methods used against the tobacco companies to limit the use of their products.
One of the examples of this strategy in the fight against private ownership of guns is the efforts to repeal the Protection in Lawful Commerce in Arms Act, (PLCAA) which shields firearms manufacturers from frivolous lawsuits designed to drive them out of business, such as the lawsuit brought against online ammo seller Lucky Gunner by the parents of a victim of the Aurora theater shooter, implying somehow that Lucky Gunner was liable because they somehow knew beforehand that their ammo was going to used in such a horrific manner. Due in part to the PLCAA, the suit was dismissed by Judge Richard P. Matsch, who also order the plaintiffs to pay a healthy chunk of Lucky Gunner's legal fees (which Lucky Gunner later earmarked for use by gun rights organizations (*sniff*… I love a happy ending…).*
The strategy of "guns = tobacco" has a fatal flaw. The positive societal benefits of smoking are pretty much non-existant but the positive societal benefits of a responsible armed citizenry are out there for all to see. They're exemplified in that viral video of a mother defending her family with a concealed firearm, and they continue on with skills acquired by competing in the shooting sport and the conservation programs funded by the Pittman Robertson Act. Yes, there are negative effects of civilian gun ownership (nothing in life is free), and the campaigns to limit those negative effects are being championed by the gun industry itself. Just as the biggest advocates of pool safety is the pool building industry, gun trade groups understand the need for safety and promote efforts to increase firearms education, enforce existing gun laws and expand the safe storage of guns.
Guns are not tobacco, and effort to label them as a menace to society as tobacco was so labeled is doomed to fail, because if guns themselves were the problem confronting society, why do the police carry them to protect society from itself?
That's a question the anti-gun crowd has no answer for.
* Full Disclosure: Lucky Gunner provides me with ammo for some gun tests, and they're good friends of mine because, well, they're friendly people.