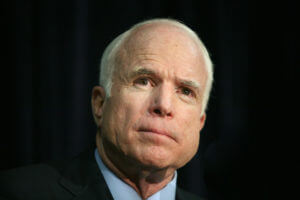 First off, I generally agree with Senator John McCain on foreign policy, even the aspects thereof that have fallen out of favor. That said, I've been thinking a lot about how much respect and restraint is due John McCain in his dying days and in the days immediately following his death. Here's what I've concluded: not much. This post is not about denigrating him. It's about declaring a debt paid. It's about the Right's freedom from any further obligation to a senator who has been justly compensated over a lifetime. Please tell me if we can stipulate the following assertions:
John McCain leveraged his heroism and sacrifice into decades of fame, power, adulation, and fortune.
John McCain, for decades, has made a regular practice of going out of his way to smite his enemies, primarily in his own party (i.e., people who Ricochetti generally agree with, respect, and/or like).
McCain has continued that regular practice in his dying days, even going so far as to settle scores with his enemies in his own party. We get it, sir, you don't like us very much. Point taken.
McCain generally held his fire against then-Senator Barack Obama in the 2008 general election campaign, even going so far as to denounce Republicans who ran ads about Obama's extreme anti-American pastor Rev. Jeremiah Wright.
McCain voted against the Bush tax cut; co-sponsored the unconstitutional campaign finance reform bill; supported immigration amnesty; and killed Republicans' last chance at Obamacare repeal.
To the extent that we can stipulate these assertions as facts, I hereby free the Right from the obligation to praise John McCain. I further free the Right from their vow of silence over McCain's history of abusing anyone and everyone on the Right who disagrees with him. John McCain has been amply compensated for his honorable military service during the Vietnam War. The Right has paid its debt to him. We're even.