Today is the sort of day that demands a quick and easy lunch. You see, I'm preparing for my company's annual financial audit and I really just don't have the time to wait around. (I usually try to get this audit done in February, but the birth of my anchor baby got in the way of that.) So, come 12:30 pm I hauled myself away from my desk and off to the nearest fast food establishment to grab a quick bite.
The restaurant is called CaliBurger, a not very subtle rip off of the great In-N-Out Burger, located near my office in Pasadena, CA. I've eaten there before but its usually not my first choice, the quality isn't great and it's a tad expensive compared to the real deal. What I like about it is that it's close and they serve you quickly. The staff was always attentive and the service pretty good for a fast food joint. Lo and behold, when I arrived there today my experience was entirely different.
First, there was the person who greeted me and took my order: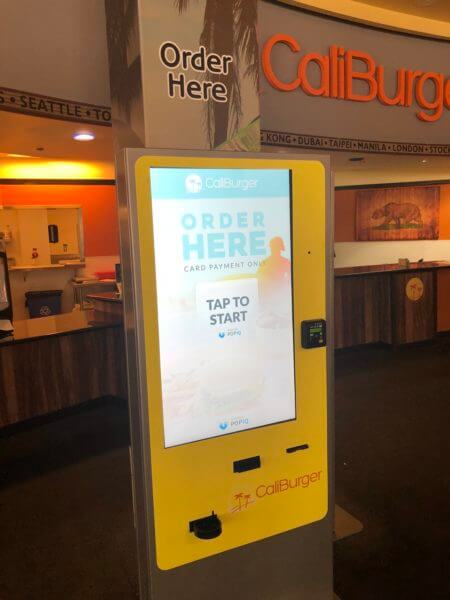 Well, that's new. Not that I'd never experienced an ordering kiosk at a fast food place before, it's just that this place always had four employees at their various cash registers to take orders and keep up with the lunch rush. I looked around and saw one person milling about behind the cash registers, but he seemed to be doing other work. Ordering took about 30 seconds, a beep as my apple pay was charged and the machine spits out a receipt. There were no lines.
Ten seconds later the gentleman from behind the cash registers rushed over to me with a cup for my soda, which I filled at a self-serve station. He asked me if I wanted to watch my burger being made by "Flippy". Well, I thought, that's an odd and very specific nickname for the chef at a fast food burger joint, only to turn around and see: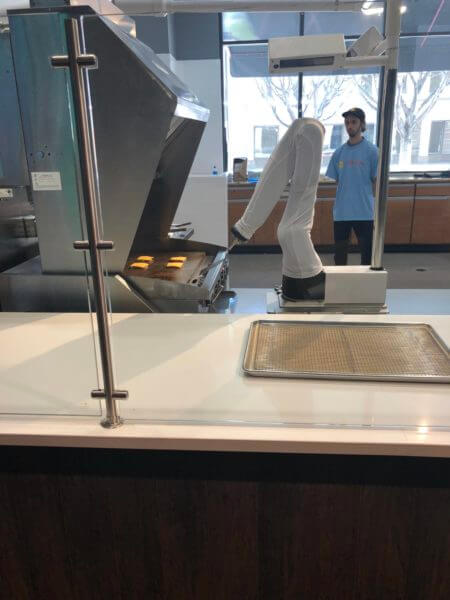 Meet Flippy: the burger flipping robot. Equipped with a vast array of cameras and sensors Flippy can cook up to 300 burgers an hour to the exact same specifications every time. No more underdone or burnt burgers. He will even switch utensils for different jobs automatically and clean the grill in between each batch. Not only does he cook a pretty decent burger (it was the best one I've had at this restaurant) but he also is equipped with a sophisticated cloud-based AI that can learn from his surroundings and experiences and acquire new skills over time.
Well, damn.
Oh, that guy in the background? He's Flippy's assistant and puts cheese on the burgers when needed. I guess Flippy hasn't acquired that skill yet. Other than the gentleman who brought me my cup and Flippy's Sous Chef there was one other employee I could see, a nice lady who assembled the finished burger once Chef Flippy was done cooking the patty. The same gentleman from earlier brought my burger to my table.
All told, only three employees and a robot were there to serve me my lunch. Total time from order to first bite: about 2 minutes and 30 seconds. In a restaurant that used to employ four cashiers, nevermind the rest of the back kitchen staff required to make a burger.
Thank you, California's $15 minimum wage.