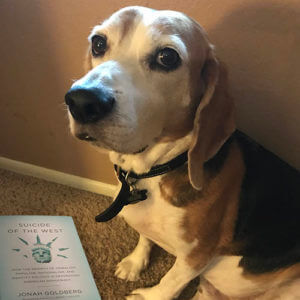 I have turned this account over to my loyal dog, Calvin the Wonderbeagle, who said I didn't have to walk him this morning if he could post a book review. Please forgive the interruption. — Jon Gabriel, Editor-in-Chief
---
Hi, humans. I am dog. My name is Calvin. I can read. My owner can read too. He read book called Suicide of the West by dingo-owner Jonah Goldberg. Then my owner sleep next to whiskey bottle. He do this a lot. The book fell on floor and I read it. I wrote review.
It smells boring. Mostly paper smell. The back cover kind of smelled like Funyuns so I lick the back cover. My owner eat Funyuns. I rub my back on it so it smell good now. It smell like Calvin. That is my name.
There is no chasing in book. There is no bacon in book. There is no tennis ball in book. I like books with chasing and bacon and tennis ball. This book has thing called political philosophy on many pages. Poodle-human named Jean-Jacques Rousseau and bulldog-human named John Locke disagree on political philosophy. I have thoughts on this.
I explain now. Rousseau political philosophy is about "general will" of nation and Locke about primacy of individual. Rousseau think precondition for dependence upon collective contra nature, individual, or class, require voluntary and total surrender by each individual of all his rights and powers. This make Rousseau philosophy bad because every dog know that common good is primarily the aggregate of private interests writ…
[Bark, bark, howl. Bark. Bark bark. Bark.]
Someone try to attack Jon's house. I scare him away.
I do not remember what I writing.
Do you know how long Jon will keep up with stupid conceit that his dog is writing book review? It is getting very old.
Anyway. You should buy Suicide of the West by dingo-owner Jonah Goldberg. And buy tennis ball.