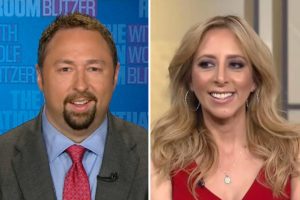 I tend to change the channel when former Trump campaign spokesman Jason Miller appears on a CNN panel. This is not due to his opinions or dedication to an administration I abhor, but because it's difficult to separate his on-air commentary from the knowledge of his affair with fellow Trump staffer AJ Delgado. His continued presence in the public eye is a pointed reminder that despite the adage "it takes two to tango" — in this case, it appears that only one participant is forced to suffer the professional consequences.
At this point, many lurid details of their relationship have become public knowledge. Delgado says that Miller claimed he was separated from his wife when they began their relationship. He has kept mostly quiet regarding the specific circumstances, though now-published text messages indicate ongoing involvement rather than a one-night stand (as initial rumors suggested). Whatever the circumstances may be, it resulted in the birth of a baby boy who did not ask to be the center of a public custody dispute with both parents demanding the other receive mental health screenings amid accusations of libel and abuse.
Despite both parties being highly visible and vocal supporters of the President during his 2016 campaign — as well as members of the transition team — neither one made it to the White House. Miller was the first pick to be Communications Director and declined the offer only two days later to "spend time with his family" after his infidelity became news. But Miller ended up doing just fine. He went on to join advisory firm Teneo Strategy, became a regular political contributor on CNN, and still visits the White House on occasion to offer his expertise.
Yet Delgado has all but disappeared. Now she's back in her Miami hometown doing "non-profit legal work" with no more almost-nightly appearances on Hannity, no more pieces in the Wall Street Journal, and no more trips to Trump Tower. Whatever one may think of her choice to publicize details of the ongoing legal proceedings on Twitter, there's something rather uneven in how their political careers shook out.
Try to set aside who is to be believed and try to set aside one's opinion of who is in the wrong. Instead, ask why it is that Miller is on cable news several nights a week while Delgado is absent after so much prior airtime. Ask why Miller has the administration's ear still while Delgado has been made a persona non grata. Ask why Delgado deactivated her social media for nearly a year after being flooded by abuse by those too happy to point out that an affair is inconsistent with "family values." Ask why only Delgado is called a "whore," "slut," and "homewrecker" by gleeful trolls while Miller gets a shrug from the media and keeps his marriage.
Some will say there's an imbalance in qualifications that led to these lopsided results. But Delgado's background has not suddenly changed since becoming a mother. Parenthood has not altered the very same résumé that had brought her to the Trump campaign and to so many talk shows. She continues to work while raising their son, so it's not a matter of electing to drop out of the workforce to stay at home.
The repercussions to Delgado's political career suggest something deeper than all that. This episode highlights something inherently rotten in our culture that continues to blame women solely for sexual indiscretions. Much like Hamlet's Ophelia who was urged to "get thee to a nunnery," Delgado has been banished from the political sphere even though it's obvious that an affair requires mutual participation. She went from being everywhere to being absolutely nowhere in the space of a few months.
Even though our news media claims to be enlightened to the struggles women face after it was forced to cope with the #MeToo fallout, that same media continues to play a role in placing far harsher punishment on only one participant — the one who has to experience the most visible physical consequences of sex. This is the very same media that flirts with the idea of giving self-professed male sexual abusers a chance to redeem themselves. Yet they can't be bothered to book a female commentator due to her sin of participating in a consensual sexual relationship that happened to result in pregnancy.
It's a curious thing that in this supposedly enlightened time of societal self-reflection we still refuse to forgive a single woman for making an error in judgment. Perhaps that woman "should have known better," but so should have the man with a wife at home. It's disgraceful that Delgado has been dropped by the networks who loved having her on previously while Miller gets away relatively scot-free.
Of course, there can be reasons we don't know about that may explain why Delgado has been ostracized. On its face, however, it seems that the same contradicting expectations apply: "boys will be boys" while women are expected to be sexual puritans. The man keeps his marriage, keeps making big bucks, keeps his White House connections, and keeps his visibility — and the woman ends up with next to nothing.
We may be getting closer to some sort of cultural awakening, but clearly we have a very long way to go.
---
Skyler Mann is a mother and professional who moonlights as a political commentator. She was a managing editor and a host for the Pocket Full of Liberty podcast. She has a BA in philosophy from Columbia University and can be found on Twitter at @sevenlayercake.