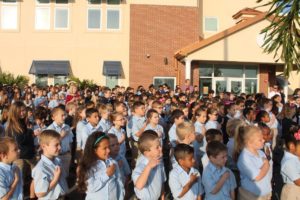 For years we've been talking about the poor state of education. For conservatives, it's even worse: our children are learning propaganda with a Progressive agenda; the government and teachers control the curriculum and textbooks to the detriment of the students; and there is no indication that anything will change soon.
It's time that we took back education, and we can already see strategies that are beginning to support a balanced agenda for authentic learning.
To highlight one of my major concerns, school textbooks, I was alarmed to read an article by Joy Pullmann in The Federalist about a new textbook being considered for Advanced Placement courses in the 2019 edition. Pullmann reports on some of the content of By the People: A History of the United States:
In describing the rise of Black Lives Matter in the aftermath of the Ferguson, Missouri shooting: 'The nearly all-white police force was seen as an occupying army in the mostly African-American town.' In a section discussing President Trump's cabinet, the book says 'They were largely white males, more so than any cabinet since Ronald Reagan.' In a discussion of the nation's politics after 2012, it says 'Those who had long thought of the nation as a white and Christian country sometimes found it difficult to adjust' to secularization and an increase in people of other races. Elsewhere, it describes Trump's 'not-very-hidden racism.'
You might ask how much damage one biased book might have on students. Pullmann tells us:
Psychological research shows that repeated exposure to fringe concepts conditions people to be more likely to accept such ideas and behavior. This is one reason media bias is such a big deal: even people who are aware of it are influenced by it, and that influence is enough to tip elections.
By the time students reach college, where the indoctrination is widespread, they have already been conditioned:
Where do you think the Parkland high school foot soldiers got their wild ideas? They weren't born with them. They were taught them. Who taught their teachers, and who taught their parents, and their parents' teachers? Well, the United States' monolithically leftist professors.
If the description of the textbooks isn't troubling enough for you, I suggest you read Walter Williams's latest column which addresses the 2017 National Assessment of Educational Progress, aka The Nation's Report Card:
It's not a pretty story. Only 37 percent of 12th-graders tested proficient or better in reading, and only 25 percent did so in math. Among black students, only 17 percent tested proficient or better in reading, and just 7 percent reached at least a proficient level in math.
It's time to move past shrugging our shoulders or wringing our hands. Our kids are being given a substandard education, taught in a neo-Marxist environment with a socialist curriculum, and distorted and biased textbooks. Here are the places I suggest we start:
Promote K-12 public charter schools: Hillsdale has developed an outstanding program. One of these schools is located in Palm Bay, FL, called Pineapple Cove Classical Academy. Its curriculum includes history taught through original-source documents, music, art — and even cursive writing! It serves lower- and middle-income families. This is the school's mission:
The mission of Pineapple Cove Classical Academy is to develop graduates in mind and character through a classical, content-rich curriculum that emphasizes the principles of virtuous living, traditional learning, and civic responsibility.

We are building intelligent, virtuous American citizens.
The effort to build more charter schools will be difficult. Teachers, teachers' unions, administrations and legislatures (especially due to the influence of unions) are fighting the establishment of charter schools. They publicize poor results from existing charter schools (some don't do well) and are not shy about "manufacturing" the data. My hope is that more and more charter schools will set high standards and evaluate results; will share information with potential charter schools about knocking down the endless roadblocks to building charter schools; and find new and better ways to encourage the community to build and attend these schools.
There is another option which is growing in popularity:
Providing ongoing support for home-schooling: Since families are becoming more aware of the limitations of the public education system, they are trying homeschooling. Although it's not for everyone, there are many advantages to teaching your children at home. For an overview, read here. I hope that many of you who are participating in charter schools or homeschooling will share your experiences.
Provide Balanced Textbooks and Original Sources: Publishers must be identified that can provide textbooks that more accurately teach conservative and traditional values and provide a more balanced view of this country and the world. This effort would be a first step toward moving away from Pearson Publishing, which currently provides most of the textbooks that support a progressive agenda.
We need to take some positive and constructive steps before any more damage is done. Let's think outside the box: how can we identify new and better ways to educate the next generations?