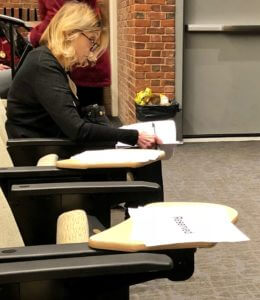 Thanks to Young America's Foundation (formerly Young Americans for Freedom) our conservative club was able to host Christina Hoff Sommers last Tuesday. We had advertised her around campus thus: "Politically involved? Feminist? Engage in the campus dialogue." Ironically, other than a graduate student, I was the only female club member to show up. But I enjoyed getting the VIP treatment — sitting in the front seats and being able to hang out with Sommers before and after the event.
The assistant dean (she's great) started off by talking about how fortunate we were to have these forums for free speech and making it very clear that no disruptive behavior would be tolerated within the room. Then we got to hear from Sommers.
She got her Ph.D. at Brandeis and went on to teach at Lewis and Clark, a school known for its hardcore conservatism, which is a natural byproduct of being situated in Portland, OR. Jokes aside, Sommers recently returned there to speak, and was described ahead of time by a law student as a "known fascist." Whoa! (Check out the super-cringey video clip from that event if you dare.) So how did she come to be a known fascist? Violent suppression of the opposition? Nope! In fact, it was by opposing bad statistics and other insidious forms of feminist misinformation (and misleading information).
Her first act that marked her as a heretic was publishing a book in the early '90s called Who Stole Feminism? In this book, she argued that women were not being oppressed in America, but instead that feminism was succeeding. The book won the approval of Erica Jong and other ACLU colleagues but lost Sommers many other friends. Someone grouped her with Thatcher as a "female impersonator" (Tumblr hilariously called this out for transphobia recently).
Essentially, Sommers believes that feminism still has the potential to be relevant and that it should be relevant. She believes that women and men alike have unique disadvantages in society. She said today's women's issues include the work/family balance, violence against women, "Harvey Weinsteins," and the very real issues of women outside the West.
She saw potential in the #MeToo movement, an opportunity for men and women to come together as humans and "renegotiate the social contract" to make the workplace more equitable. But Sommers doesn't see the point in promoting gender divisiveness and is distressed by the ever-increasing amount of agenda-driven research with no decent peer review. College professors, she laments, have a monopoly on women's issues. Feminism is now ruled by gender warriors and true believers.
Sommers made no secret of the fact that she votes Democrat. She doesn't consider herself to be particularly conservative but, for sadly obvious reasons, it is only conservatives who will give her a platform.
Below, you'll find a paraphrase of the evening's Q&A. I hope you enjoyed this report, and feel free to ask questions below!
Q: Can you be sexist towards men or racist towards whites?
A: …Duh?
Q: You keep using non-inclusive language. How do you feel about queers?
A: Live and let live. Listen to each other.*
Q: You think the First Wave was good. Wasn't it racist though?
A: It grew together with Abolition. White and black women fought together. They had their family quarrels, and there was definitely some racism but there was also sisterhood.
Q: So would intersectionality have been helpful back then?
A: Yes, but what bothers me about intersectionality is that it is not inclusive of women of color. It is inclusive of women of color who share your views.
Q: I think the problem is that people are afraid they'll end up hating each other if they discuss these issues.
A: Totally. We should have speakeasies for free speech.
Q: How do you determine the reliability of your stats?
A: I find the best source. You'd be shocked how many people provide no sources for their stats or leave off many pertinent facts.
Q: Do you really think it's a coincidence that you don't hear opposing ideas from women of color?
A: Actually I have many Muslim atheist allies but they are called Islamophobic. Intersectionality is elitist and exclusive. We need more listening and less marginalizing.
---
* Sommers told a great anecdote at this point. She had talked with two boys who were college roommates. One was gay and very left-wing, the other homophobic and very right-wing. They listened to each other. By the end of the year, the right winger lost his homophobia and the gay student became a staunch Republican.