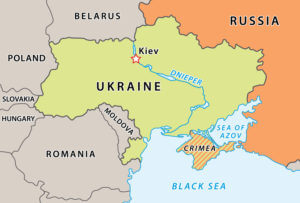 Welcome to the 1930s, Comrade. The Ukrainian language is now forbidden in Crimea. That's not all that the Russian government has forbidden there. The Ukrainian Orthodox and Catholic Churches are also forbidden. The forbidden list also includes Ukrainian political parties and Ukrainian-language media. History is repeating itself in the Russian ethnic cleansing of Crimea.
The ethnic cleansing is not restricted to Ukrainians. Crimean Tatars who returned to Crimea decades after the mass deportations ordered by Josef Stalin have been targeted as well. In 2016, the Russian government banned Crimean Tatar organizations. One activist, Ervin Ibragimov, was abducted in May 2016; his whereabouts are unknown to this day. Ukrainian activists have also been abducted and disappeared as well.
The FSB and so-called self-defense units intimidate, harass, and abduct those who are resisting the Russian occupation. They also put pressure on citizens to inform on anyone who does not acknowledge Russian authority.
Yes, Stalin, the Breaker of Nations lives on. The insatiable appetite to conquer and loot will probably not stop at the Crimea. 10,300 Ukrainians have died in eastern Ukraine in the latest Russian invasion.