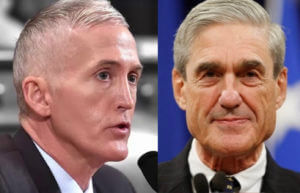 Trey Gowdy is one Congressman whom I greatly admire. He was the 7th Circuit Solicitor and led an office of 25 attorneys and 65 employees before joining Congress. He has been at the forefront of the Congressional investigations and doesn't mince words when he gives his opinion.
So when people have repeatedly attacked Special Counsel Robert Mueller and his work, Trey Gowdy supports him and suggests we let him do his job. As a result, I ask, why there is so much turmoil around the situation, so much gnashing of teeth? So, I investigated, and I think I know why people are so upset. And frankly, I think Trey Gowdy has the right idea.
Let's look at the actual facts and some of the assumptions about the investigation:
Jeff Sessions recused himself from the investigation of Russia. And Rod Rosenstein didn't think the Justice Department should handle the investigation. We can debate Sessions' recusal and Rosenstein's delegation another time. But if you're going to be angry, be angry at those two men.
Assumption #1: We didn't need a Special Counsel. That may be true, but Robert Mueller didn't ask for the job, as far as I know.
Assumption #2: Almost all of Mueller's law team were Hillary partisans and donors. That's not true. After that news came out, that information was corrected. There were three consequential donors. Of the remainder of the team, some were Democrats, or Republicans, or even donated to both parties.
Assumption #3: Trey Gowdy was ripping apart Mueller's team. He did — once:
The only conversation I've had with Robert Mueller, it was stressing to him, the importance of cutting out the leaks with respect to serious investigations.

So, it is kind of ironic that the people charged with investigating the law and executing the law would violate the law. And make no mistake, disclosing grand jury material is a violation of the law. So, as a former prosecutor, I'm disappointed that you and I are having the conversation, but that somebody violated their oath of secrecy. . .
Mueller's team leaked the first indictment and Trey Gowdy reprimanded him and cautioned him to stop the leaks. And he also continued to support Mueller.
Assumption #4: The investigation is taking too long. My question is, how long is too long? What is the right amount of time? Don't you want people who have violated rules or committed crimes to be held accountable?
Assumption#5: There must be no collusion or Mueller would have released that information. This assumption requires some dissecting of the facts. First, the original letter from Deputy AG Rosenstein said nothing about collusion (which is not illegal, by the way). The pertinent section authorized the Special Counsel to investigate—
. . . any links and/or coordination between the Russian government and individuals associated with the campaign of President Donald Trump . . .
That authorization says nothing about collusion or crimes on the part of Trump campaign. One could assume that might have been what was intended, but if the facts don't support that assumption, there's no issue. Clearly there was evidence regarding Paul Manafort but not in regard to the Trump campaign. Worse yet, Gowdy thinks that Trump's own attorneys have inflamed the situation by harping on the collusion scenario with him. And finally, why does anyone think they must not have found collusion or they would have announced it, while the investigation is still in progress? Why not accept that we simply do not know?
Assumption #6: The Special Counsel was given too broad an agenda and because this investigation has gone so long, it must be a fishing expedition. First of all, there was never a deadline set because it would have been impossible to set one. Second, would you really want Mueller to stop his investigation without interviewing everyone connected to this issue? Besides the reports of people who've been interviewed, isn't it possible that other relevant people have been identified and are being interviewed, and these interviews haven't been publicized?
I'm sure I could come up with many more assumptions that have been made by people who want to defend Trump and the Republican Party and find people to attack and blame, but I hope I've made my point: it serves no useful purpose. And let me say that I am as frustrated as many of you by the fact that a Special Counsel was set up, that it will have gone on for nearly a year, that misinformation has been sent out but corrections were not well promoted. And it's also possible that the misinformation has been spread by the Left and the Right. But this is where we find ourselves: with a tedious investigation that has weighed down the Trump administration, given Trump ample opportunity to rage at several of the related parties, and a chance for the Left to rub its hands gleefully at our anger and discomfort. Isn't it time that we take a deep breath and follow Trey Gowdy's advice regarding Robert Mueller:
I would encourage my Republican friends — give the guy a chance to do his job. The result will be known by the facts, by what he uncovers. The personalities involved are much less important to me than the underlying facts. So, I would — I would say give the guy a chance to do his job.
How about it?