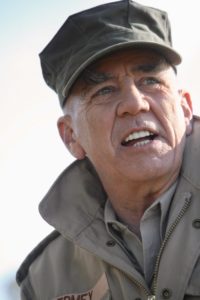 R. Lee Ermey, USMC drill instructor, bordello owner, Golden Globe nominated actor and TV host is dead at age 74.
Statement from R. Lee Ermey's long time manager, Bill Rogin: "It is with deep sadness that I regret to inform you all that R. Lee Ermey ("The Gunny") passed away this morning from complications of pneumonia. He will be greatly missed by all of us."
After an 11-year stint, which included training new recruits at USMCRD – San Diego and 14 months in-country in Vietnam, Ermey was separated from the Corps for injuries. "After medical retirement… I didn't know what to do, so I bought a run-down bar and whorehouse in Okinawa. I was doing a little black-marketing and the Okinawan FBI was hot on my trail, so I boogied on out to the Philippines."
There he met Francis Ford Coppola who cast him as a helicopter pilot in 1979's Apocalypse Now. But it was Stanley Kubrick who made him a star by upping his technical advisor to the role of Gunnery Sergeant Hartman in Full Metal Jacket. Having been a D.I., he wrote his own material and received very little direction from Kubrick.
The language was pure Corps of the 1970s. None of the best lines can be quoted here. (In one of the best all-time edit jobs, Sgt. Hartman's rants were put to footage of Rudolph the Red Nosed Reindeer in a piece called Full Metal Parka. Go ahead and Google it.)
Ermey had retired as a Staff Sergeant but was made an honorary Gunny by the Commandant of the Marine Corps General James L. Jones for his service to the Corps in 2002, the only time that has been done.
His career was sidetracked when he criticized President Barack Obama at a Toys for Tots fundraiser in 2010. "We should all rise up, and we should stop this administration from what they're doing because they're destroying this country. They're driving us into bankruptcy so that they can impose socialism on us, and that's exactly what they're doing, and I'm sick and damn tired of it and I know you are too." He lost a GEICO contract because of it and consequently lost out on a lot of other work, too.
"I don't know what it is with these idiots down there in Hollyweird. They just have no taste."
.