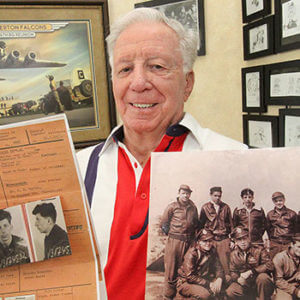 We knew Joe through his wife, who was also called Jo. Joe was her second husband; she knew him through an organization to which her first husband belonged; both men were prisoners of war. When Jo's first husband died, Joe eventually courted her and Jo and Joe were married.
A couple of weeks ago, Joe passed away. Both of them had been knocked down by a nasty strain of the flu; Joe didn't make it. He had been unwell for a while, suffering for years from maladies such as a recurrent type of dysentery and vertigo, results of his year as a POW in a Nazi camp. In spite of the trials he'd been through back then, he was funny and engaged with others. His funeral was yesterday.
Joe was a radioman in a B17, shot down over Germany. He was in the camp for one very long year, going from 159 pounds to 89 pounds. One person at the funeral shared how much he loved Joe's stories. He even cracked a joke when the Nazis picked him up after parachuting into enemy territory. His joke was met with the butt of a rifle. He was featured in a news story with other Daytona Beach veterans three years ago on the 70th anniversary of the end of WWII.
Into his '90s, Joe visited schools to tell his stories of the war, so that young people would appreciate the great country they lived in. They loved his stories, his sense of humor and his joy for life. When he told us about those events, he was always moved by the curiosity of the teenagers and how warm and respectful they were toward him.
He also loved golf, and for many years he played with two other men; one of the wives attended Joe's funeral yesterday. She said that if Joe died, the other two men had planned to freeze him and take his body out to the golf course every time they played. It wouldn't be necessary, she said: Joe outlived both men.
Joe and Jo were also involved in the Veterans Museum and Education Center in Daytona Beach. He was concerned that the museum didn't have a display specifically dedicated to the Air Force, so he made sure that a display was created. He was also involved in leadership roles in several national veterans associations.
Although we usually only saw Joe when we were with Jo for depositions (we're all involved with a nasty court case that has gone on for five years) or over lunch afterward, he was always animated and cheerful. He often wore his POW cap. During the last year, we greeted him just before a deposition began, and as he and Jo sat across the table from us, I saw him looking at us and pointing. I realized then he was fading. He didn't know who we were.
I expect, though, as often happens with dementia, Joe still had his older stories to keep him company, even though we were all being lost to him. Jo took very good care of him, as well as her 95-year-old sister. At one point, she finally had to put Joe in a facility, after he'd gone off one day in the car and ended up in Georgia, located by the sheriff's department. Jo's sister and Joe switched places: her sister, also suffering from dementia, came to live with Jo, but Joe was placed in a facility due to his mental deterioration and unpredictable moods.
Still, he had touched countless lives with his stories, heroism, patriotism and resilient attitude about life. He and Jo were a devoted couple right up until the end.
A couple of young men who spoke about Joe at the funeral asked us all to carry on his legacy. Many people will always remember him as the vibrant man and hero he was.
Here's to you, Joe; thank you for your service.