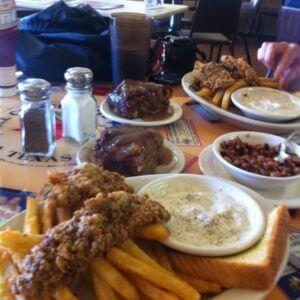 For the last 30 years or so, we have gone on weekend motorcycle trips for breakfast at a variety of places. A few are iconic for riders, especially the OST (Old Spanish Trail), in Bandera, TX. The roughly 30-mile ride from the San Antonio outskirts to Bandera started to turn into almost a race on Sunday mornings until local law enforcement started to pay attention.
It's still a beautiful scenic ride. It's where I learned to love breakfast tacos. About 15 or so years ago our long-term waitress stopped working there. Her daughter told us she had moved to Kerrville, TX, and was working there. Now, for some perspective, when we met her, the daughter was a high-school girl bussing tables, and she is now a mother of four (approaching 40) and an incredibly skilled and friendly waitress. I go to the Kerrville place much more often now, but still make the occasional trip to Bandera.
What these places have in common are great local connections and good old-fashioned Tex-Mex and heart-stopping American comfort food.
There is a picture in the OST of the restaurant with dirt street and horses tied up out front. The Kerrville place is on a small block (next to the county courthouse) with a bail bond office and a tattoo and piercing place.
Please show off your best local greasy spoons!