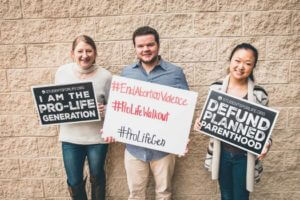 Have you noticed the media-wide publicity on the students and schools participating in a national walk-out to celebrate the pro-life movement?
Neither did I.
A young man named Brandon Gillespie was inspired to organize this walk-out after his teacher, Julianne Benzel, was put on administrative leave; she said there was a double standard for school walk-outs: schools would support gun control walk-outs but not those students who supported pro-life values. He discovered that administrators preferred to drag their feet in making accommodations for a pro-life walk-out. They finally agreed that students who participated wouldn't be punished, but they would not meet his accommodations; the walk-out is today, April 11 at 10 AM:
I asked for the same accommodation as the anti-gun protest, that teachers would be flexible in their lesson planning, and also for the availability of equipment that the anti-gun protestors were allowed to use . . . I really was not surprised when they told me that they were not going to give me the accommodations and that they were not going to sanction this walkout as they did the previous one. It just confirms for me that there is a political double standard, at least in my school district, but I'm still going to be out there.
As The Federalist reports, 144 high schools and 53 colleges will participate in the walk-out today for 17 minutes of silence and prayer ". . . to mourn the loss of the 10 babies who will be aborted at Planned Parenthood facilities during that time."
Details on the walk-out and participating schools and organizations are listed here.
I'm not surprised at the response of the school administration, although I am surprised that they agreed not to punish students who participated. There are a few larger questions at stake:
Should schools, at least high schools, be a politics-free zone during school hours?
Shouldn't any protests not be approved or accommodated under any circumstances during school hours?
Shouldn't schools, at the same time, have an open discussion about the Constitution, particularly the First Amendment?
There are steps that need to be taken to stop the onslaught of Leftist ideology in our schools. On the one hand, I'm proud of Brandon Gillespie for showing the hypocrisy of the schools and specifically the political Left. On the other hand, maybe students who are politically conservative should be asking for approval of more protests.
At the very least, let's see efforts to promote public civil discourse and liberty before school hours, during lunch and after school hours.
What do you think?