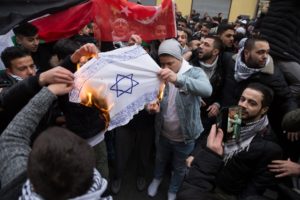 The cancer of anti-Semitism hasn't been cured; it's only gone into remission. These days it's making a notable re-entry worldwide. By looking at France, the United Kingdom, and Germany, we can get a pretty good idea of the reasons for the increase; we can also take a look at the problem in the United States. And we can't fool ourselves into thinking that there's going to be a quick or easy cure.
There are 500,000 Jews living in France:
In 2012 an Islamic fundamentalist in Toulouse shot dead three children and a teacher at a Jewish school. In January 2015, four people were killed at a Jewish supermarket by an associate of the two brothers who had killed staff at Charlie Hebdo. Most recently a 85 year-old Jewish woman [Holocaust survivor] was stabbed to death and set on fire. Reports of anti-Semitic violence in France rose by 26 percent last year, which has led record numbers of Jews to immigrate to Israel.

Of particular note, a 65-year old Orthodox Jewish woman was thrown to her death out of her apartment window in April 2017; it was ruled only last month that the motive was anti-Semitic.
The leadership in France is reluctantly acknowledging that they have a Muslim anti-Semitic problem. More than that, both the Left and Right political party members are resorting to anti-Semitic slurs. It's unclear precisely what steps to take to deal with this increasingly abhorrent occurrence:
The failure of addressing anti-Semitism in France is political, whether lack of political courage or of extreme political correctness. If leaders in Paris are unable to address the deep-rooted anti-Semitic beliefs in France, then acts like murder of this Holocaust survivor are bound to repeat.
Germany has an even worse situation:
The police registered 1,453 anti-Semitic incidents in Germany last year, more than in five of the previous seven years, and organizations including the American Jewish Congress say fewer than a third of such incidents get reported.
No matter who the primary perpetrators are, Levi Salomon, head of the Jewish Forum for Democracy against Anti-Semitism states that most violent incidents are caused by Muslims. He also points out that he doesn't want to stigmatize a community, but to say the problem doesn't lie with migrants makes the situation worse.
In addition:
Others paint a more nuanced picture, saying prejudice and stereotypes harbored by recent migrants from largely Muslim countries have added to an existing undercurrent of anti-Semitism among some Germans and older migrant communities from Eastern Europe, resulting in an increasingly threatening environment.
Some people in Germany have tried to rely on the education system to change students' perceptions. Unfortunately, many of the Muslim students have been conditioned to anti-Semitism in their countries of origin, and are educated otherwise with difficulty, due to their ignorance of the language of their new country, and attitudes remain unchanged.
Finally, in Great Britain, an extensive study of 5,466 "observations" on anti-Semitism determined that although 30% of British society holds one anti-Semitic attitude, that doesn't mean that 30% of the population is anti-Semitic. In fact, those same people agreed with one or more positive statements about Jews:
With this in mind, it is worth stressing a fact that runs the risk of being understated in a problem-centred report: levels of antisemitism in Great Britain are among the lowest in the world. British Jews constitute a religious and ethnic group that is seen overwhelmingly positively by an absolute majority of the British population: about 70% of the population of Great Britain have a favourable opinion of Jews and do not entertain any antisemitic ideas or views at all.
For those wondering about how the results from Muslims were evaluated, keep in mind that levels of anti-Semitism in Great Britain are the lowest in the world:
The prevalence of negativity towards Jews and Israel is, on average, twice as high among Muslims than the general population.
Regarding the US, I am somewhat reluctant to quote two recent studies; it's unclear whether either or both of these organizations provide objective analyses, since both tend to be politically oriented. Here's one organization from January 2018:
An internet survey conducted by the World Zionist Organization (WZO) on anti-Semitism in the US shows that 70% of respondents experienced an anti-Semitic incident over the past year.
WZO Vice Chairman Yaakov Hagoel said the recent upswing in anti-Semitism in the US is a result of US President Donald Trump's support of Israel, and not from the people's hate of the Jews around him. According to him, Trump's policies are an important factor in the rise in anti-Semitism not just in the US but around the world.
Based on the comment about Trump, I think it would be reasonable to question the credibility of this organization's comments.
The L.A. Times reported these study results:
Harassment, threats and vandalism cases targeting Jews in the United States surged to near-record levels in 2017, jumping 57% over the previous year, according to a new report by a prominent civil rights organization.

The Anti-Defamation League counted 1,986 anti-Semitic incidents — the second-highest number since the group began tracking them nearly four decades ago.

The figure represents the largest annual jump the organization has ever recorded. Physical attacks, which accounted for less than 1% of the incidents, was the only category that fell.

The overall count, based on data from law enforcement, victims and local Jewish organizations, includes an increase in bomb threats against Jewish centers, vandalism at synagogues and Jewish cemeteries and threats at schools.
The Anti-Defamation League has also been under severe criticism regarding its objectivity for documenting anti-Semitism. It's therefore difficult to know how accurate the data are.
This raises a number of serious concerns regarding the increases in anti-Semitic acts, how they are being addressed, and the degree to which we should be concerned:
As shown in France, there seems to be a reluctance to identify actions as anti-Semitic. Those countries that are trying to bring in migrants are hesitant to criticize Muslim populations. This ambivalence could be costly.
A lack of political will or a commitment to political correctness may cause leaders to be indecisive, possibly putting their populations at great risk.
In Germany, efforts to change minds about anti-Semitism after World War II seem to have had limited success; trying to influence young people today through the education system doesn't seem to be working.
Blaming unpopular politicians, such as Jeremy Corbyn in the UK, Angela Merkel in Germany, or Donald Trump in the US for a rise in anti-Semitism only distorts the true issues.
Efforts to inflate the anti-Semitism numbers might be occurring due to a desire to engender support for the Jewish populations that are victimized.
Even stopping Muslim immigration may not help; too many potentially anti-Semitic Muslims are now residents all over the world.
If actions are not taken in the near future, the impact to Jews worldwide could ultimately be disastrous.
What do you think?