Amidst the daily drama of #NeuterTrump collusion with the unconstitutional administrative state and their allies of convenience, the Democrats — and with the latest instance of President Trump actually trying to oppose the Russian regime with which he is willfully falsely accused of colluding — soldiers of the National Guard prepare to respond once again to a threat at our southern border. But what is the nature of that threat? Is it just a group of women and children, even if organized by an open-borders socialist group? Two vignettes may help clarify the real stakes.
A Tale of Three Check Points
A young man at a coffee shop in Arizona recounted his return journey from his latest visit home deep in Sonora, Mexico. As he drove north, he passed through three checkpoints. He remarked on the professional conduct of the personnel at all three stops.
The first checkpoint was operated by the Mexican Federal Police. They looked him over and waved him on, having decided he was not a narco. The third was operated by US Border Patrol a few miles inside the US border. Yes, if you live in a border state, you are subject to stop a certain distance inside the international boundary, a kind of defense in depth of our border. The Border Patrol was courteously professional, determining he was a US citizen and not a drug runner. And then there was the second checkpoint in Mexico.
A small team of men in civilian attire, as well armed as the Federales, ran the checkpoint near a Mexican town, controlling a main route to the US-Mexico border. They were only concerned that the traveler was not up to no good. You see, these professionals were enforcing a local, perhaps regional, law — that of a drug cartel. They enforced a drug lord's local peace like a feudal lord before strong kings arose to bring the aristocracy to heel.
While calling the drug cartels "thugs" and "gangs" may be rhetorically useful, it should not blind us to the threat. The threat of the cartels is that of a long-term insurgency. While they wax and wane, the demand for drugs has sustained a disruptive and corrosive transnational movement. Transnational criminal organizations were acknowledged as a national security threat by military writers like Ralph Peters as soon as the Cold War ended.
As these organizations developed logistics, financing, and intelligence, they crowded out other criminal ventures. Truly independent smugglers to get you over the border are vanishing. The routes belong to cartels. So, drug and people smuggling are not separate enterprises today. Which brings us to no-go zones.
A Tale of Two No-Go Zones
Swedish and French authorities rejected President Trump's characterization of certain Muslim dominated neighborhoods in their countries as "no-go zones." Never mind that law enforcement and emergency crews acknowledge the facts on the ground. The national authorities cannot bring themselves to speak the truth, much less to take the hard actions necessary to reassert national civil authority. And yet, these authorities have not posted this kind of sign on federal public land.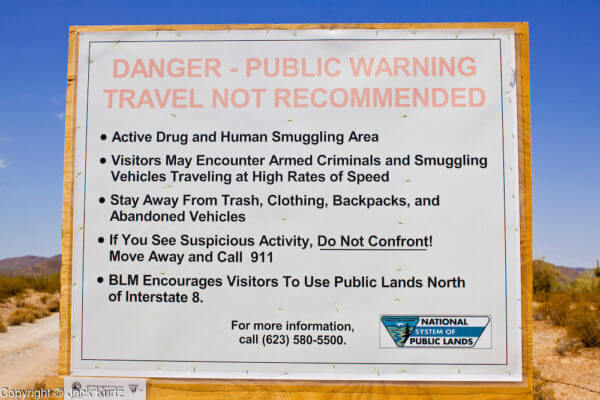 BLM still warns of this threat. "Be aware that the southern part of the monument is a corridor for drug and human smugglers. Be alert for illegal activities and law enforcement operations." So part of our sovereign territory is officially acknowledged as a corridor, a supply route, for transnational entities that operate as local governments in a country with which we share a long land border.
What other, unacknowledged, zones exist where our sovereignty is contested? Within the past six years, I recall a young Army Reserve officer discharged under other than honorable conditions, following his civilian arrest for some minor part in the drug trade. My counterpart in the area remarked he thought the kid had little choice. It was a small desert town on a major drug distribution route. Nice life, nice family you have there. Sure would be a shame…
That is the real threat, or at least the real transnational threat. This threat does not fit neatly into law enforcement or military boxes. Indeed, it is free to operate and adapt between the lumbering institutions of national governments. Meanwhile, our state and federal governments muddle through (PDF).