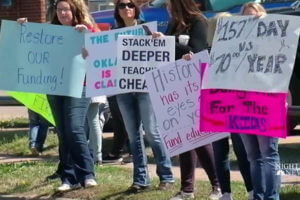 Last week, Republican Gov. Mary Fallin gave each Oklahoma public school teacher a massive 15 to 18 percent pay raise funded by the largest tax increase in state history. To show their appreciation, teachers went on strike demanding even more money. Today, 200 Oklahoma school districts are shut down, with students going uneducated and parents scrambling for daycare.
Similar protests have been taking place in Kentucky, Arizona, and West Virginia. What do all these states have in common? Republicans hold the governorship and both legislative chambers. But it's totally non-partisan and for the children … or something.
West Virginia teachers kicked off the protests with a two-week strike last month. The state government gave them a 5 percent raise to get them back to work.
The Kentucky legislature passed a bill to reform the unsustainable state pension system last week so today all of Kentucky's public schools are closed and thousands of teachers are protesting at the state capitol. Almost no one in the private sector has a pension, but taxpayers aren't allowed even to tweak the extravagant pensions of government workers.
In Arizona, teachers and students have mobbed the state capitol and the governor's office demanding a whopping 20 percent raise. Various schools organized "sick-outs" last month, with teachers feigning illness to avoid doing their jobs. Now teachers unions are threatening a statewide strike unless their outrageous demand is met.
Like most non-government workers, I've gone years at a time without a raise. For the same reason, I have been laid-off due to a bad economy. A pension? As if. Yet I never picketed my various employers, stopped showing up to work, or demanded that my overtaxed neighbors pony up cash.
I'm sure that teachers believe they're underpaid; pretty much everyone thinks they're underpaid. But they should remember that the vast majority of taxpayers also are struggling and have been for a long time. These strikes aren't harming politicians, but kids and their parents. And the last thing an angry parent wants to do is to give more money to people making their lives miserable.
Meanwhile, all the teachers are showing up at my kids' charter schools here in Arizona. I expect that a lot of new students will be joining them in the fall.