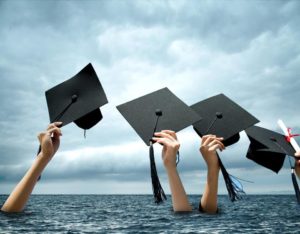 Today Walter Williams in his syndicated column reminded me (like I needed to be reminded) that people simply don't care about personal responsibility anymore. He gives a number examples of how the culture has changed, and writes about companies that advertise the ways people can get out of their debt. They promote steps people can take to "quickly be debt free." Essentially, because someone carelessly and thoughtlessly used a credit card to satisfy their materialistic needs, the companies are paying for it. Even Dave Ramsey, a financial expert and person of high moral values whom I greatly admire, encourages people to negotiate with companies to lower their debt, and for a fraction of what they owe.
Then we have the Federal Student Aid program, which provides a means for students to have their loans forgiven, canceled, or discharged. At first, when looking at the requirements, I thought that the criteria made sense; then I realized how any creative person could play with those guidelines:
Your school falsely certified your eligibility to receive the loan based on your ability to benefit from its training, and you did not meet the ability-to-benefit student eligibility requirements (for example, you did not have a high school diploma or General Educational Development certificate).
Your eligibility to receive a loan was falsely certified because you were a victim of identity theft.
The school certified your eligibility, but because of a physical or mental condition, age, criminal record, or other reason, you would not meet state requirements for employment in the occupation in which you were being trained.
The school signed your name on the application or promissory note without your authorization, or the school endorsed your loan check or signed your authorization for electronic funds transfer without your knowledge, unless the loan money was given to you or applied to charges that you owed to the school.
On second review, I realized that almost anyone who wants to qualify for this program could do so easily. For example, on bullet point three, how difficult would it be to incriminate the school? And why should a school be responsible for your poor decision in choosing a study major for a job that doesn't exist? Or one that's hard to find?
Then there is the Mortgage Forgiveness and Debt Relief Act, which was renewed for 2017, but as far as I can tell, is in limbo in Congress at this time. This law protected mortgage holders who were underwater when they lost their homes from having to pay unpaid income taxes on those homes, up to $2 million. I realize that some people lost their homes due to losing a job, but there are also many who insisted on buying homes which they could ill-afford. The reasons a person loses a home have no relevance to whether a person can take advantage of this program. A limit of $2 million protection for a tax bill is a pretty hefty forgiveness.
There are other ways that people have been able to cut back on or eliminate their debt. In almost every case, somebody else pays for those losses. People want to point to the "rich businesses" who can afford it, or to the government. Or they simply believe they are entitled to get help. Well, I have news for them. We are the ones paying their debts: the business customers and the American taxpayers.
But even that isn't what bothers me the most. It's the lack of personal responsibility. The other day as I was loading my groceries into my car, I saw a bag of green onions that had slipped out of sight and not been checked through. For a moment I thought about just throwing it in one of my grocery bags. But I didn't. I plodded back into the store and paid the $.99. Did that make a difference to anyone—to another customer? To the store? I don't know. But it made a difference to me.
Personal responsibility is part of my make-up. If I take on a task, I finish it. If I make a commitment, I fulfill it. If I incur a debt, I pay it. If it is hard to complete my responsibilities, I have no one to blame but myself, and I look to no one else to bail me out.
I think we have lost this precious and important value, this commitment to ourselves, our families, our communities, our country.
No one cares about personal responsibility anymore.