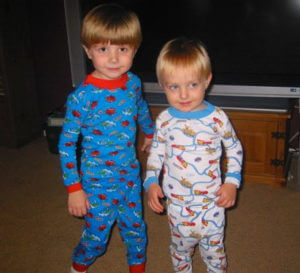 As I write this, thousands of people are participating in "The March For Our Lives" demonstrations in our nation's capitol and in other cities across the country. The marches are a response to the horrific shooting in Parkland, Florida. The students who are participating in this march are scared of the violence that happens all too frequently in our neighborhoods.
I understand and share in that fear. In 2006, when my wife and I lived in Phoenix, there was a violent home invasion in the Arcadia district and a three-year-old boy was kidnapped. Our oldest son was three years old at the time, and it had a profound effect on how my wife and I perceived our personal safety.
"I want a home alarm system," she said. "We'll get one," I said. "I also want a gun."
So I went to my local shooting range, rented every 9mm pistol they had available, bought a gun, learned how to shoot and started carrying a gun whenever and wherever it was legal to do so.
Those two adorable boys are the reason why I started carrying a gun. I'm not going to march in the streets and I'm not going to ask anyone else to make me safe: I'm going to do everything in my power to make myself and my family safe. Realizing that the world is a scary place is a good thing, but hoping that someone will make the scary things go away is not going to solve the problem, because no matter how much you want someone else to meet your need to feel safe, they will fall short of that goal. Taking charge of your safety and becoming your own first responder is the only way you can be sure there will be someone who is trained and able to respond to a life-threatening emergency in your vicinity.
Enough. Take charge of your own security today. Don't wait for the government. The life you save could be your own.