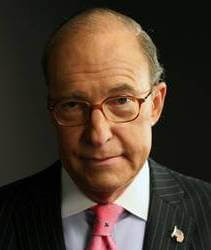 The road to the White House goes through Ricochet. From Politico:
Larry Kudlow will be the next director of the National Economic Council, succeeding Gary Cohn as President Donald Trump's top economic adviser, a person close to the matter said on Wednesday.

Trump offered the job to Kudlow, a CNBC personality who has been a regular outside adviser to the president, over the phone Tuesday night while Kudlow was at dinner at Cipriani restaurant in Manhattan, the person said. Kudlow accepted.

During the call, Trump said he was seeing Kudlow's photo on television and told him: "You're looking handsome, Larry."
I better spruce up my LinkedIn profile.