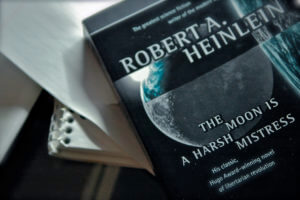 "There Ain't No Such Thing As A Free Lunch" — Robert Heinlein

I recall the first time I was exposed to this expression was during the science fiction binge reading period of my late teens. It was from reading a novel by Robert Heinlein, The Moon Is a Harsh Mistress. Mr. Heinlein was a Naval Academy graduate, and after experiencing health issues left the Navy and did some additional graduate work in physics, which I am sure in hindsight influenced his notion that the universe gives nothing for free, and wound it into his opines on the nature of men, and well … nature.
Why do I think exposure to college-level physics engenders a viewpoint of a curmudgeonly universe? Because after three semesters of physics, and then later grinding through, in greater computational depth, three more semesters of thermodynamics, it becomes clear that TANSTAAFL is in fact built into the operating system of the universe. Every exchange of one form of energy to another comes with a price. Every exchange of matter to energy, or energy back to matter (truly an exorbitant exchange) comes with a cost. This theory is enshrined in Laws of Thermodynamics and here are the rules as approximately coined by my introductory Physics class professor, who was riffing off Ginsberg's parody theorem, which helps you get your mind around the "big picture."
The first law states: You are not going to win in the exchange game,
The second law states: You will not break even in the exchange,
The third law notes: That you cannot even bow out of the game.
To date, no one has ever demonstrated the elusive perpetual motion machine.
The consumption of energy is at the very heart of our society's promise to a life that allows leisure rather than a Hobbesian existence of nasty, brutish, and short. Everything we touch has a component of energy, we eat it (fertilizer), harvesting with it, transport everything with it, or handle something directly composed from an energy product ("Plastics" was the advice Mr. Robinson bestowed on a young Benjamin Braddock, in The Graduate). It heats us, cool us, moves us, eases our chores, anyone recall that an entire Monday used to be allotted for the laundry, (mostly by the ladies, want to relive those great times?) and it entertains us. Is there nothing that sweet transposition of energy cannot do?
Later I was exposed from my wife's studies in business accounting the works of Milton Friedman, a brilliant economist who reiterated that TANSAAFL in not purely a matter, of well … matter, but of the economic man. We all strive for a win-win exchange, but it all depends on where you draw the boundaries and temporal limits of any transactional exchange.
So given the nearly universal and intuitive exposure we have to this principle, why does half of one of the largest collection of the most highly educated, sophisticated, and enlightened societies of men and women, since the earliest records of the musing from the cradle of civilization on the structure of our humanity, do they still think we can get free stuff from any government?
God's universe unequivocally says no, how do we humble men think we can say otherwise?