The SPACE randomized clinical trial, which 234 veterans with chronic back or knee pain completed, has been touted as demonstrating that opioids are superfluous to chronic pain management. According to JAMA's summary of the trial,
In the opioid group, the first step was immediate-release morphine, oxycodone, or hydrocodone/acetaminophen. For the nonopioid group, the first step was acetaminophen (paracetamol) or a nonsteroidal anti-inflammatory drug. Medications were changed, added, or adjusted within the assigned treatment group according to individual patient response.
and not only did those in the "nonopioid" group experience fewer side effects, but
the use of opioid vs nonopioid medication therapy did not result in significantly better pain-related function over 12 months (3.4 vs 3.3 points on an 11-point scale at 12 months, respectively).
Overall, "nonopioid" treatment appears to win. Omitted from JAMA's summary of the SPACE trial, though, is the interesting nugget that one of the medications "changed, added, or adjusted" within the "nonopioid" group was tramadol, an opioid. The treatment regimen for the "nonopioid" group can be read off the right-hand column of this graphic helpfully provided by F Perry Wilson of MedPage Today: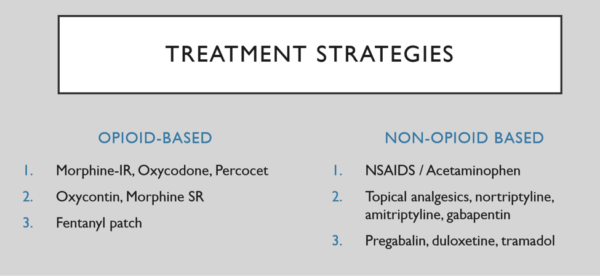 Admittedly, tramadol is considered an unusually mild opioid – or was considered unusually mild until recently, when it was scheduled as just another dangerous drug. Furthermore, only 13 of the patients in the "non-opioid based" group received tramadol, meaning most did not. Wilson reports,
Now, I know what you're thinking. Isn't tramadol an opioid? I asked lead author Dr. Erin Krebs that very question. She reminded me that this trial started in 2010: "This was before all the concerns about opioid overdose and addiction and back then a big concern was is it ethical to deprive patients of opioids if they fail all these non-opioid medications."
It wasn't until August 2014 that tramadol became an "officially dangerous" schedule-IV drug, after having been completely unscheduled for nearly 20 years. So the SPACE trial began back in those halcyon days when tramadol was considered "the safe opioid," and that, along with basic compassion, appears to be the SPACE trial's excuse for including tramadol users in the "nonopioid" category.
Indeed, tramadol isn't just an opioid. It's also an SNRI, a type of antidepressant, which may help explain tramadol's formerly-mild reputation: antidepressants also help people cope with chronic pain. As the graphic above shows, stage 2 of "non-opioid based" treatment includes nortriptyline and amitriptyline, both tricyclic antidepressants, presumably for the same reason. A patient receiving tramadol isn't just getting his opioid receptors tickled; he also benefits from accumulating serotonin and norepinephrine, both of which can improve a chronic sufferer's mood and function without the opioid "rush." For someone interested in using opioids as conservatively as possible – stretching small amounts of opioid-receptor tickling into the largest-possible therapeutic benefit – tramadol might seem like a wonder drug.
For many patients, tramadol was that wonder drug, and its scheduling as a controlled substance has proved a burden. As one patient regularly prescribed tramadol back when it was unscheduled puts it,
Fortunately, feeling like a scumbag addict is a great motivator for staying away from opioids, despite the fact that they do take away 100 percent of my pain and allow me to physically function through an average day. Politicians say you're just weak. [Prospective] employers see you as a potential pill-popping train wreck. Co-workers and subordinates look at you like you're Dr. House. Friends and family will compare your pain to theirs and blow it off. ("Your back hurts? That's nothing. I lost three fingers working at the guillotine factory. You don't see me suckin' down pain pills") I simply have to measure the physical pain against the psychological/emotional pain and realize that the latter is greater. Problem solved.
"I simply have to measure the physical pain against the psychological/emotional pain and realize that the latter is greater." Arguably, that's a description of tramadol's scheduling working exactly as it should, deterring law-abiding patients from relief unless their pain is great enough to be worse than the added social stigma and inconvenience.
JAMA must be perfectly well aware that tramadol is an opioid, one which became scheduled before the end of the SPACE trial period. There's no excuse for JAMA's summary describing a treatment including tramadol in its final stage as "nonopioid." SPACE's "nonopioid" treatment would be better described as "conservative use of a mild opioid as a last resort" treatment, which is exactly how many people supporting opioid usage for chronic pain believe opioids should be used: sparingly, as one of many treatments when less-aggressive management has failed.
Obviously, those who have access to the full text of the SPACE study can read the whole thing and discover for themselves that "nonopioid," in context, doesn't really mean "nonopioid." Science journalists know, though, that many readers only read their summaries of studies, or at best, the study abstracts, rather than the studies themselves, since time and access are scarce. I don't have access to the full text of the SPACE study, but if we assume that, of the roughly 240 veterans who completed the study, half, or about 120, were in the "nonopioid" group, and we know that of those, 13 received tramadol, then about 10% of "nonopioid" subjects received an opioid. That doesn't, by itself, prove that roughly 10% of chronic pain patients would benefit from opioid use, but if at most 10% of the roughly 100 million chronic-pain sufferers in the US, or about 10 million people, may benefit from conservative use of opioids, then claims that the SPACE study proves opioids have no place in chronic-pain management are greatly exaggerated.