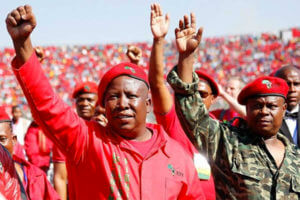 Do you pay much attention to events in Africa? Me neither. It appears, however, that South Africa is determined to head down the same bloody path as Zimbabwe – that of radical Land Reform and racial retribution.
On February 27, the South African parliament voted 243-81 to begin the process of amending the country's constitution to allow for confiscation of white-owned land without compensation. The motion was put forward by the Marxist party — the Economic Freedom Fighters — and supported by the ruling African National Congress (ANC) party and the new president Cyril Ramaphosa (who just took office on February 18). This is bad news, not just for the white landowners but also for ordinary South African citizens and especially the poor (of which there will be more if this policy is implemented). It is also bad news for the entire African continent as South Africa is one of the few African nations with anything resembling a modern economy.
Zimbabwe (formerly Rhodesia) gained its independence in 1980 and, to date, that first day of independence was probably the high-water mark for the nation. It quickly became a one-party nation run by the far-left Zimbabwe African National Union (ZANU) and its demagogic leader Robert Mugabe. Early on, he implemented a toxic blend of statist economic policies, racial resentment and retribution, and government corruption, culminating in the confiscation of white-owned property.
In 1973, the per capita GDP of Rhodesia was $1,432 which has fallen to $1,081 as of 2017. I've included a couple of graphs which illustrate this economic decline but economic statistics tell only part of the story. In recent years, Zimbabwe has experienced epidemics of diseases such as cholera (not to mention malaria and plague) which have long since been brought under control in the developed world.
This 2005 article by New York Times columnist Nicholas Kristof describes how ordinary black Zimbabweans wish they could get back the white, racist government that had oppressed them prior to 1980 in order that they and their families might have enough food to live and survive. Life expectancy in Zimbabwe, which peaked shortly after the 1980 independence at 60.97 years (men & women combined) fell precipitously to a low of 44.06 years in 2002, although thankfully it has begun to rise in the last few years.
The first graph shows the GDP per capita for South Africa, Zimbabwe, and several other African nations from 1960 to 2012 as a percentage of the world average GDP per capita. The second graph compares the GDP per capita of Zimbabwe to other sub-Saharan countries from 1980-2014 with certain recent eras of Zimbabwe color-coded (pink = Land Reform, grey = Hyperinflation, light blue = government of national unity).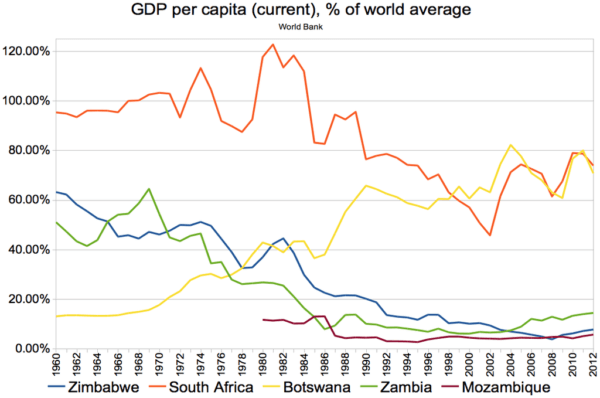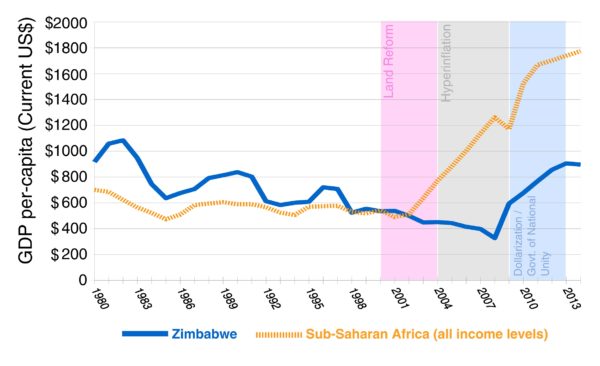 It seems that South Africa, under the leadership of Nelson Mandela, has been able to avoid the sort of racial acrimony experienced in Zimbabwe upon the end of the archaic and evil apartheid system and the start of majority rule. Unfortunately, it looks as if that will not remain the case. There are few worse policies any nation can pursue than to murder and/or run off its most productive citizens but that appears to be the path that South Africa is set to embark upon. This article provides a much more knowledgeable take on the situation than I could.
I came across this story on the Instapundit website a couple of days ago and since then I've been searching without much success for articles about this in the US press. That is disturbing to me because this seems like a very big deal.