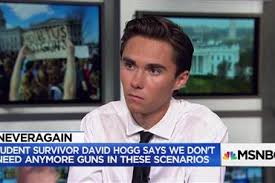 "Blessed are the young," said Herbert Hoover, "for they shall inherit the national debt." Whatever the shortcomings of the Hoover administration, he was right about the debt, and might have suggested a great many other things which America's youth appear destined to inherit, including a stunted understanding of their nation's history and culture.
To a large extent, the now-tenured countercultural revolutionaries of 40 and 50 years ago have been so successful at denigrating the national character and distorting American history that they've all but stolen a rich and deeply meaningful cultural heritage from tomorrow's adults, leaving them rudderless in the stormy seas of the here and now.
On that count alone, the young gentleman David Hogg could be forgiven for speaking platitudinous confusion. Add to that the unspeakable terror and horrific loss that he and his classmates endured on Valentine's Day as 17 innocent people in their school were slaughtered by a 19-year-old murderer, and a certain amount of deference and respect toward Mr. Hogg and his friends are in order. Further, the insinuations from some quarters that he is some sort of "crisis actor," and playing the part of a grief-stricken student strike me as half-baked at best, and malicious, idiotic nonsense at worst.
All the same, when someone enters the arena of policy debate and asks to be taken seriously, decent respect requires that their concerns and prescriptions be addressed soberly. And while it is neither reasonable nor fair to Mr. Hogg or his listeners to insist that his status as a victim should remove his ideas from the arena of respectable debate (we wouldn't, after all, automatically confer the status of aeronautic safety expert to survivors of a plane crash, nor would we appoint someone as secretary of state solely because they managed to get out of the World Trade Center alive on 9/11), as Charles C.W. Cooke observed over at National Review:
It is condescending to ignore somebody arguing about politics, not to take them on. Far from being "mean," those contending with Hogg's pronouncements are accepting that he has an opinion, and that it is worth countering — that is, they are doing exactly what Hogg's boosters have asked: treating him as the leader of a movement.
Very well then. A few questions, respectfully tendered, for Mr. Hogg:
1) Given your apparent disapproval of proposals to provide more armed protection for your school, and given your and your classmates' recent experience of being powerless at the hands of an armed killer, would you please enumerate and explain the virtues of defenselessness in the face of deadly evil?
2) In 2007, a young lady named Amanda Collins was attacked and raped at gunpoint on the campus of the University of Nevada-Reno, a gun-free zone. Ms. Collins had a concealed carry permit, but could not legally carry her firearm on campus. Her attacker, James Biela, went on to rape two other women and murder another. "Had I been carrying that night, two other rapes would have been prevented and a young life would have been saved," Amanda later said. How does making Amanda Collins' defenseless protect her, or you and your friends for that matter, from armed criminals?
3) Both you and President Trump evidently favor raising the legal age for gun purchases to 21. Please explain to the 20-year-old single mom whose enraged ex is presently ignoring the judge's restraining order and kicking in the door to her apartment how this makes her and her children safer.
4) Is it your belief that at the moment of peril, Amanda Collins, or Carol Bowne, whose ex-boyfriend stabbed her to death at her New Jersey home (despite a restraining order), preferred to be unarmed and defenseless? Take as much time as you need on that one.
5) Was a national assault weapons ban in force at the time of the Columbine shooting?
6) According to Dr. Thomas Sowell, the rate of gun ownership in rural America is higher than in urban America. In which of the two is the murder rate the highest?
7) What percentage of mass shootings have occurred in gun-free zones?
8) Since 1950, how many shootings in which three or more people were killed have occurred in other than gun-free zones?
9) You claim that politicians are constrained by the "shock collar" of the NRA, and lament the existence of an "oligarchy that are owning this country and not letting the citizens' voices being heard." According to the Washington Post, the NRA has contributed $4.1 million since 1998 to current members of Congress. Meanwhile, the Center for Responsive Politics, using data from the Federal Election Commission, reports that the Service Employees International Union (SEIU) contributed $39.2 million in 2016 alone. The National Education Association contributed $29.7 million, the Laborers Union contributed $28.8 million, the Soros Fund Management coughed up $28.7 million, the AFL-CIO furnished $19 million, and the American Federation of State, City, and Municipalities Employees Union (AFSCME) bestowed some $15.6 million to politicians … all in 2016 alone. Oh yes, and Planned Parenthood, whose motto ought to be "No Child Left Unharvested," has lavished politicians with $50 million since 2012. Please explain again just who owns who in this "oligarchy?"
10) According to CNN (a source you will perhaps approve of), there were 650 murders in Chicago in 2017, with a total of 2,785 shooting incidents involving 3,457 shooting victims during that same year. As a deadly irony, Chicago, where there are no gun shops or civilian gun ranges, has some of the most stringent gun control laws in the country including an "assault weapons" ban. Is the criminal element or the law-abiding element that is more likely to abide by these gun restrictions? (Hint: The answer to question 7 above is 98 percent.)
11) Bonus Question: What is the functional difference between the AR-15 and a standard hunting rifle?
In his book The Closing of the American Mind, the late Professor Allan Bloom writes:
The very fact of their fury shows how much Plato threatens what is dear and intimate to them. They are little able to defend their experience, which had seemed unquestionable until questioned, and it is most resistant to cool analysis. Yet if a student can- and this is most difficult and unusual- draw back, get a critical distance on what he clings to, come to doubt the ultimate value of what he loves, he has taken the first and most difficult step toward the philosophic conversion. Indignation is the soul's defence against against the wound of doubt about its own; it reorders the cosmos to support the justice of its cause. It justifies putting Socrates to death.
Perhaps Mr. Hogg will have the presence of mind to also take a step or two back and, as much as possible so soon after a traumatic experience, make a critical evaluation of his more absolute pronouncements in the light of the evidence of the human experience. Otherwise, the progressive experiment will have swallowed yet another restless and vibrant spirit. I truly hope it is never said of David Hogg, what Professor Bloom observed of others:
We are like ignorant shepherds living on a site where great civilizations once flourished. The shepherds play with the fragments that pop up to the surface, having no notion of the beautiful structures of which they were once a part.