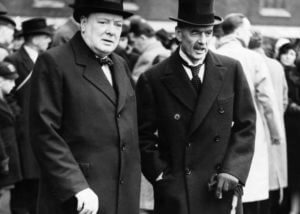 Winston Churchill once tossed off a line to the effect that history would be kind to him because he intended to write it. The prophecy has been largely borne out, due in no small part to those writings. Churchill's six-volume history of World War II did much to create his reputation for defiant courage—but also the enduringly unflattering one of his immediate predecessor as Prime Minister, Neville Chamberlain (nicknamed "Old Umbrella" by his colleagues).
The movie Darkest Hour, with Oscar nominations for Best Picture and Best Actor (Gary Oldman), is very much in the Churchillian tradition, with the protagonist presented as a lonely and unpopular voice for fighting on no matter what. Ironically, however, Churchill never publicly referred to the conflict in the War Cabinet that is at the heart of the movie—whether to carry on the war against Germany alone or seek terms for ending it.
Nonetheless, there certainly was such a conflict, which we know because detailed minutes of War Cabinet meetings were kept. The historian John Lukacs used them to write his fine book, Five Days in London: May 1940 (1999), and they can be found online (though not easily) in the United Kingdom National Archives. The minutes confirm the standard accounts of Churchill's eloquence and courage, but they tell a story quite different from the movie, and more interesting. They show Churchill deftly maneuvering to avoid a breach in his government; and for another man, and an unlikely one at that, the minutes tell a tale of some redemption.
At the time of the crisis—late May 1940—the news was bad. Belgium had just surrendered; the French army was collapsing; British troops were retreating to Dunkirk; Hitler was becoming the overlord of Europe; and as Churchill acidly noted, "the United States had given us practically no help."
France had not yet surrendered, however, and the War Cabinet members (principally Churchill, Chamberlain, and Secretary of State for Foreign affairs, Lord Halifax) were anxious to keep it from doing so. They had before them a request from the French Premier, Paul Reynaud, for a joint British-French approach to Mussolini (Italy was not yet a belligerent) for help in mediating an end to the war.
The minutes show Lord Halifax favoring negotiations because it was time to "face the fact" there was no longer "much . . . a question of imposing a complete defeat upon Germany but of safeguarding the independence of [the British] Empire." When Churchill resisted, the movie has Chamberlain join Halifax in a call for peace talks, with Churchill finally buckling in agreement.
Historians generally agree that at the height of the crisis there was at least an implicit threat of resignation from Halifax over the disagreement about peace negotiations, an act that likely would have felled Churchill's government, then only a few weeks old. Churchill was not yet widely trusted even within his own party, one of the reasons both Chamberlain and Halifax remained prominent in the War Cabinet. Understanding as much, Churchill at one point agreed to "consider" terms if presented to him, but the minutes prove he resolutely opposed taking the initiative to seek them.
Far from being in league with Halifax, Chamberlain remarked that an approach to Italy "would not serve any useful purpose." But he cautioned against replying to France with a "complete refusal" of its request for such an approach because of the demoralizing effect that reply might have. Instead, he proposed telling Reynaud that "without prejudice to the future, the present was not the time at which advances should be made to . . . Mussolini."
Chamberlain's proposal was the one unanimously agreed upon, with the minutes recording Churchill as being "extremely satisfied." The crisis in the War Cabinet was over, and within days the world learned of the miraculous evacuation of the British Expeditionary Force from the beaches at Dunkirk. Never again was consideration given to a negotiated peace.
What the movie gets wrong is portraying a lonely and eventually beaten down Churchill, who momentarily surrenders to the idea of peace negotiations. That makes for good drama, but it is Hollywood fiction, especially the rather silly London Underground (subway) scene that is, together with Churchill's meeting with his outer Cabinet, the turning point in the movie. The meeting with outer Cabinet members did occur, during which Churchill received their support; it is the one allusion to the crisis that Churchill made in his memoirs. That meeting has by some been credited as Churchill's masterstroke to overcome Halifax's opposition. There is something to it, but the minutes show Churchill expressing his extreme satisfaction with Chamberlain's draft reply to Reynard immediately after recounting his meeting with the outer Cabinet; the meeting changed nothing about how to reply to the French.
The War Cabinet minutes reveal a careful and skillful Churchill, retreating momentarily from a position of maximum defiance, thereby buying time and averting a potentially disastrous breach with Halifax. At a crucial point, Churchill demonstrated he knew how far to press his case without going too far, of sensing where ground could be yielded without giving up what was essential.
It takes nothing away from Churchill, however, to acknowledge that his successes in times of crisis almost always depended on the assistance of others. In May 1940, his voice in the War Cabinet was, as usual, the most eloquent, but it was not a lonely one. The reputation of Neville Chamberlain will probably never recover from his appeasement policies that culminated in the infamous Munich Agreement. Yet history records, in the minutes of the War Cabinet meetings, that at a time when Churchill needed help as much as he ever would, he received it—from the man some called Old Umbrella.