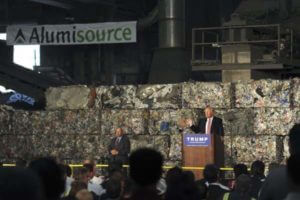 National security is the justification President Trump will employ if he takes action against aluminum and steel imports. As the president said last week, "I want to keep prices down but I also want to make sure that we have a steel industry and an aluminium industry and we do need that for national defense. If we ever have a conflict we don't want to be buying steel [from] a country we are fighting."
Really? Just what sort of military scenarios is the Pentagon feeding the White House? The top two suppliers of steel imports to the US are Canada and Brazil. Russia and China, on the other hand, are fifth and eleventh with 9% and 2% of imports, respectively. Indeed, as trade expert Phil Levy points out, the US currently has defense treaties with five of the 12 countries picked for potentially higher tariffs. Levy adds that the report itself notes that Defense Department steel needs require a measly 3% of US steel production.
This supposed national security reason looks like a paper-thin excuse for trade action. Then again, cooking up an economic justification would be even harder, as Trump's quote about prices suggests. Although the US metal manufacturing industry produces some $60 billion in value-added output, according to the Cato Institute, domestic manufacturers that use steel generate nearly $1 trillion.
When barriers are raised against steel imports, former George W. Bush economic adviser Keith Hennessey has explained, "You also raise input prices for American firms that use steel to build bridges and buildings and make cars, and trucks, trains and train tracks, appliances, ships, farm equipment, drilling rigs and power plants, and tools and packaging." So what you give with corporate tax cuts, you take away with misguided trade policy.
The economic case for President Trump's protectionist trade policy is, as Trump himself might put it, "like, the opposite of strong." It really is basic economics. Adam Smith and David Ricardo. The IGM survey of economists found 96% agreed or strongly agreed, "Freer trade improves productive efficiency and offers consumers better choices" while just 5% agreed (and none strongly agreed) with Trumponomics' core view: "A typical country can increase its citizens' welfare by enacting policies that would increase its trade surplus (or decrease its trade deficit)."
So what is the real goal here? Pretty much just a sop to Trump's unhelpful economic nostalgia. ("For Trumpists, steel is an emblem of their country's descent from greatness" is The Economist's correct take.) But what an expensive concession to make, especially if it leads to expanding and deepening trade conflict.