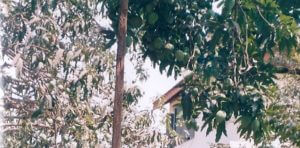 The high of summer in Cambodia is marked by the Khmer New Year in mid-April. It's a time when the entire country collectively sweats. Women in their fine silk and lace go to the monasteries and welcome the New Year in the searing heat. However, underneath all the sweltering heat, there is a very heady, sweet tropical aroma lingering in the air; the peak of the mango season is almost upon us.
Mango is the quintessential tropical summer fruit. I've mentioned before on this page that I grew up on an orchard. To be precise, I grew up on a mango orchard, and many childhood memories are associated with this fruit. With the arrival of spring in late January, the blossoms would bloom on the mango trees. The sweet fragrance of the flowers would attract insects. We'd gather dried leaves and grass around the bases of the trees and light fire to keep the insects away. By late March, as the temperature begins to rise and the budding mangoes continue to grow, there is a slight change in the air and so arrive the "mango rains." Mangoes begin to fall from the trees, marking the arrival of the pre-monsoon rainfall. These "mango rains", also referred to as "summer showers," are just light sprinkles in the afternoon, but sometimes they do turn into several hours of downpour. But without the rains, the crop won't thrive; the rains help in the early ripening of the mangoes. After the rainfall, we would gather all the fallen green mangoes and pickle them whole. Khmers love eating sour fruits, especially mangoes, pickled or fresh. If you ever visit Cambodia, you'd see fruit vendors selling sour fruits on every street corner, all over the country. We eat those fruits dipped in a mixture of salt, sugar, and chili. Our pickled mangoes never lasted until the next season.
As the high summer arrives in mid to late April, mangoes begin to ripe. We'd pluck them and gather them according to varieties. There are a few dozen Khmer mango varieties and they are just as good as those you'd find in India, the birthplace of the fruit.The most prized variety by Khmers is svay keo chin.
A quick Khmer lesson: Svay is the Khmer word for mango. Keo means glass/crystal and it refers to the majority of mango varieties as well as women because of their exquisite shape and curvature. Svay poum sen is probably the most fragrant of Khmer mangoes. When they are ripening on the trees, you can detect that heady fragrance a mile away. It's also the only mango I can tell by scent alone. My personal favorite is svay khos rdauv (out of season mango) and just as the name implies, this particular variety bears fruit out of season. This is how Khmers have mangoes year-round. Although, recently, Khmer mango growers are getting another crop out of the svay keo rmiet variety in October/November.
Mangoes have been cultivated in Cambodia before fifth century BC, but as mentioned above, the fruit is native to India. There are two species of mango, one from the Indian subcontinent which has flushes of bright red new growth and bears the mono-embryonic fruit of high color and regular form. The other species is from Southeast Asia. Its poly-embryonic fruit is pale green and has an elongated kidney shape. Khmers grow mangoes from seeds, inarching, and epicotyl grafting. The seed normally develops in three weeks. Seeding mango requires relatively low maintenance and will bear fruit in three to five years. Recently epicotyl grafting is becoming quite popular among Khmer growers because the trees bear fruit very early, but there are drawbacks. The trees are small, half the normal size, prone to diseases, and they die quickly.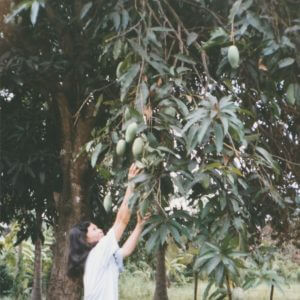 Growing mangoes requires a frost-free climate. Blossoms and small fruits die if the temperature drops below 40℉. Young trees can die if the temperature drops below 30℉. Mango trees thrive in summer heat and wilt in summer fog. They grow fast with sufficient heat. The canopies can be rounded, broad or uptight. They are large trees that can be as tall as 132 ft. Mango trees can live for hundreds of years. There are trees that are more than 300 years old, and still bearing fruits. The taproot descends as deep as 26 ft down with profuse, wide-spreading feeder roots and anchor roots penetrating into the soil. Mango leaves are pinkish red and quickly change to dark red while young. Khmers eat the young leaves. They turn dark green as they age. Leaves are born in clusters parted by a length of naked stems bearing no fruit. These naked stems mark successive flushes of growth. Each flush of grown leaves will harden off to a dark green color before the next flush of growth begins again. Mango blossoms are small and greenish-white in color. They appear at branch terminal panicles. Each blossom has five petals, with a slightly sweet fragrance. Several flowers in each panicle are perfect, most don't produce pollen and are incapable of producing fruit. Mangoes grow at the end of the stems, sometimes with five fruit to each stem. The fruit takes about four months from flower to ripen. The quality of the fruit is dependent on the scarcity of the fiber. Khmer mangoes hardly have any fiber.
Mango is a symbol of fertility in Hindu mythology. The blossoms are used in the worship of the Goddess Saraswati. The fruit also symbolizes eternal love. Hindus believe mango blossoms can stir a feeling of such visceral nature. Kamadeva, the God of Love, is said to possess five arrows, one of which is a mango blossom that is believed to be a powerful missile, certain to turn women into love-struck creatures, drenched with desire. In Shakuntala: the Ring of Remembrance, a Sanskrit play by Kālidāsa and translated to English by Barbara Stoler Miller, there is a scene with a maid plucking a mango bud and offering it to the Love God, indicating its potency:
Mango-blossom bud,
I offer you to Love
As he lifts
his bow of passion.
Be the first
of his flower arrows
aimed at lonely girls
with lovers far away!
Also from Kālidāsa, the Gathering of the Seasons: A Poem in Six Cantos, translated into English by Chandra Rajan
Sprays of full-blown mango blossoms – his sharp arrows,
Honey-bees in rows – the humming bowstring:
Warrior-Spring set to break the hearts
of Love's devotees, is now approaching, my love.
In the Khmer myth of Nandi the Bull (Lord Shiva's mount), pregnant women are forbidden from eating green mangoes as they bring great misfortune.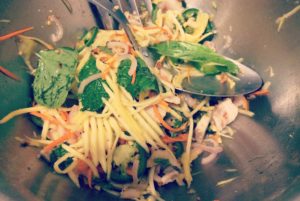 Both mango fruit and leaves are featured in many dishes in Khmer cuisine, one of which is ngiom svay (mango salad). It is the most loved of the Khmer salads and consists of shredded green mangoes, carrot, sliced shallots and a variety of herbs tossed with Khmer fish-sauce dressing and topped with crushed roasted peanuts. We make this salad with a variety of proteins: dried shrimp, pork belly, sun-dried salted fish, fresh shrimp and smoked fish. During the hottest days, the simplest of dishes consists of ripe mangoes with grilled sun-dried salted fish and rice. My family usually made mango fruit leather when we had a surplus at the end of the season. Making mango fruit leather requires only mango pulp and a few hours of your free time.
Try this perfect summer fruit the next time you come upon it.