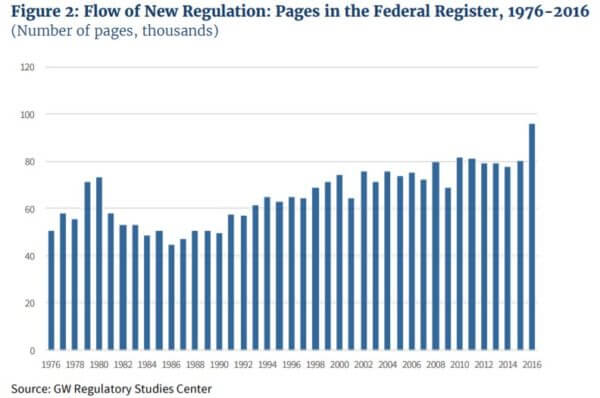 "Pro-growth" economic policy is about more than just tax reform. Smart deregulation also has the potential to boost growth. Indeed, the Trump administration is counting on deregulation as a key lever for turning a 2% economy into a 3% (or higher) economy. In a report last October, the White House's Council of Economic Advisers declared that "deregulation will stimulate US GDP growth" and favorably cites research finding that "excessive regulation" suppressed US growth by an average of 0.8% per year since 1980.
Of course, this doesn't mean that Trump's deregulatory efforts will boost growth by nearly a percentage point or anywhere close. But the study does suggest regulation might be sub-optimal in a number of areas. For instance, President Trump hopes cutting environmental and other regulations will help get more bang for the buck out of his new infrastructure plan.
Now a new report from Goldman Sachs splashes some cold water on the deregulatory impulse, or at least tempers expectations. The report first notes that Team Trump's talk about deregulation isn't just talk. Washington issued fewer regulations last year — particularly those with an annual effect of $100 million or more — while "some existing regulations were delayed, weakened, or repealed," according to the bank.
But what has been the economic impact? To arrive at some answers, Goldman tries three different approaches: