Today's podcast is Groundhog Day, because this is the 25th anniversary of the movie. The Federalist's Robert Tracinski joins me for a discussion of the best Bill Murray movie bar none–and one of the few contenders for comedy of the '90s. We talk about the inescapability of character; about Harold Ramis's Tocquevillian insight into American restlessness; about the big city and the small town; about liberal individualism and the divinity of all action no consequences; about relational being, love, and civic friendship; about French poetry and ice-sculpture; about Sonny, Cher and Rachmaninoff!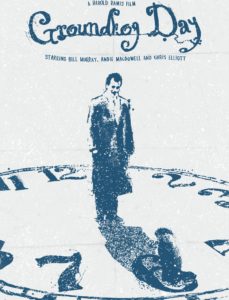 We also talk about Robert's theory of Hollywood doubles.
Deep Impact and Armageddon.
The Man Who Knew Too Little and The Game.
Robin Williams's What Dreams May Come also gets a mention.
We also talk about why comedy does not receive enough respect and recognition, not to say the honors bestowed during awards season, which is, alas, upon us…
Here's Robert's fine essay on the movie, finally!
Folks, listen, share, comment, and please give us a rating/review on iTunes!