I'm not one to call for boycotts or protest marches. But sometimes I see things, from sources I don't expect, that simply make my blood boil. Take the History Channel. They have drifted from the programming I used to love back when we lovingly called it "The Hitler Channel." They still offer some decent scripted shows and a couple of decent "reality" shows like American Pickers and Forged in Fire.
I don't DVR much and, like most Americans, I'm not into appointment television. So last night I was catching up on a few series using the History app on my iPad. Programs still have commercials but usually the most annoying thing about them is that they are too damned loud. If you're listening in on headsets some of them can knock you into the middle of next week. But last night was different. On came an ad for a company called North Korean Express. They offer backpacks and all sorts of merchandise decorated with North Korean propaganda posters. OK, fine. If you want to be a schmuck* and wear the shining face of Kim Jong-Un to class I guess it's not any worse than parading around in a Che tee shirt.
Until they came to this: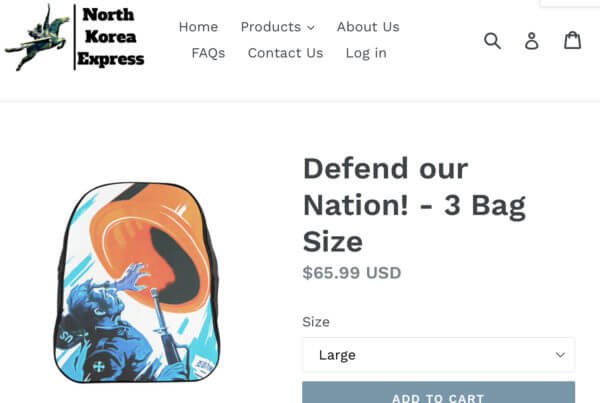 The image depicts the death of a US Serviceman. As a father of a US Marine I am more than aware that if the you-know-what hits the fan on the Korean Peninsula there's going to be a lot of our extended family, both in the Corps and here on Ricochet, who will be in the cross-hairs. I don't find it particularly amusing or easy to brush off.
North Korea Express says that they are non-political. "We do not preach hate toward the East and the West… We do not support any politics nor [do] we discuss it."
They may not "preach" it, but they are promoting it. And attempting to capitalize on it.
I'm disappointed in the network. Their former programming schedule of military documentaries was instrumental in my son becoming a Marine. Because of them he knew the names of Chesty Puller and John Basilone long before he ever left for Parris Island.
I reached out to A&E Networks via both email and Twitter. They have not responded as of publication. I think my voice needs amplification.
*Not my first choice of words. Choose an appropriate one from your own vocabulary.