Last night President Trump appeared downright presidential. While there is plenty of partisan bickering that can (and is) being done regarding the policy proposals and political points raised, the stories of individual guests of the First Family were some of the most powerful in recent memory.
There was a couple — a police officer and his wife — who adopted a heroin-addicted baby born to a woman the officer met on a patrol. When President Trump introduced the family, the adoptive mother, Rebecca Holets, removed the cover she was using to nurse the baby in order to be honored by those present in the gallery.
Next came President Trump's focus on the evils of the North Korean regime. Directly behind the Holet family, a couple who had just brought a child into their home, were Fred and Cindy Warmbier, parents mourning the loss of theirs. Their son Otto was a young man killed by North Korean authorities after he was held captive after he tried to exit the country at the end of a group trip he took there.
Otto Warmbier's parents at #sotu. Otto was imprisoned & killed by the brutal North Korean regime. pic.twitter.com/H37nKtsMO4

— Rita Panahi (@RitaPanahi) January 31, 2018
The Warmbiers, likely as naive as their son when he left for North Korea, spent 17 months in agony; wondering how their son was, if he was even alive. Then came word he would be coming home but the news quickly turned agonizing. He wouldn't be flying on a commercial flight home but on a medical plane. He arrived in the United States in a coma, before dying six days later.
They were interviewed about their son on CNN about what the North Koreans did to their son:
After his return it was reported: "The parents of Otto Warmbier, a young man who was detained in North Korea for more than a year and died soon after being released, said on Tuesday he was "jerking violently," howling and "staring blankly" when he returned home on a medical flight."
The juxtaposition between two parents sobbing after their son was brutally tortured by the regime and a happy, smiling adoptive family with their newborn was jarring. But then, came the kicker: The story of North Korean defector Ji Seong-ho. President Trump told his story, in what was perhaps the most powerful moment in a State of the Union in memory:
The Washington Post's Anna Fifield profiled Ji Seong-ho's powerful escape story. And just look at this photo: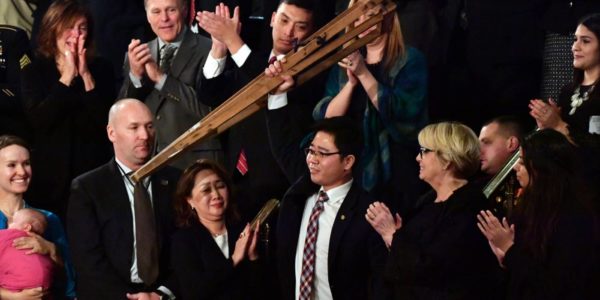 With Rebecca Holet looking on smiling with her baby, the Warmbier parents sobbing, and Ji Seong-ho, defiantly holding up his crutches, which transported him across China and Southeast Asia into freedom.
There are thousands of others like Ji Seong-ho; mothers and their babies, children, men, women, and the elderly. For the last several years, I have been fundraising for an organization that helps these individuals, who have managed to escape North Korea over the North Korean-Chinese border, to freedom in South Korea, where they automatically receive citizenship. Liberty in North Korea ushers these brave souls from China, through Southeast Asia; a 10,000-mile journey because the route over the DMZ is impossible. This past year alone, mostly on Twitter, I raised over $60,000, and this summer I will be writing (and blogging!) a trip to South Korea to meet some of the refugees LiNK has managed to ferry to freedom over the years.
President Trump should be applauded, loudly, for bringing the plight of these refugees into the hearts and minds of the American people.