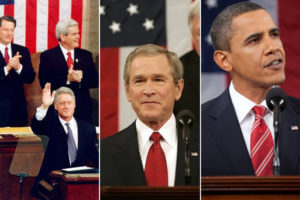 If Washington DC really is, as Paul Begala said, "Hollywood for ugly people," then the State of the Union address is its Nerd Prom. So why do so many DC nerds want to kill it?
"It makes me ill just imagining President Donald Trump at the upcoming State of the Union speech, preening, bloviating and bashing his enemies from the well of the U.S. House of Representatives," writes progressive columnist Eric Zorn in the Chicago Tribune.

"For all of its pomp and ceremony — two raucous standing ovations for the president before he even speaks a word? — the State of the Union lacks dignity as much as it lacks purpose." And so, Zorn says, it's time to go back to the pre-Woodrow-Wilson policy of presidents sending a written report on the "State of the Union" to Congress instead of delivering a speech.
You've all endured this miserable spectacle at some point in your lives. You know firsthand how insufferable it is. Instead of me having to convince you, the burden should be on you to convince me: Why wouldn't America be better off with the president submitting a written statement to Congress in lieu of a speech, as presidents did for nearly the entire 19th century? It was Thomas Jefferson, a man remembered for his many great ideas, who ended the practice of SOTU oratory. It was Woodrow Wilson, a man remembered for his many terrible ones, who brought it back. Presidents change but the speech is invariably boring, too long, and irrelevant politically despite the massive audience and even more massive hype for it year after year.
Finally — bipartisanship!
OK, sort of. Conservatives like Kevin Williamson have long complained about "the annual State of the Union pageant: a hideous, dispiriting, ugly, monotonous, un-American, un-republican, anti-democratic, dreary, backward, monarchical, retch-inducing, depressing, shameful, crypto-imperial display of official self-aggrandizement and piteous toadying."
Liberals, however, had no complaints during any of Barack Obama's or Bill "OMG Is He Ever Going To Shut Up?" Clinton's awful speeches. The Left just hates Trump. If Donald Trump came out as gay tomorrow, liberals would be rushing to join Westboro Baptist Church before Sunday.
The only upside I can see from tonight's SOTU is that is giving Democrats deluded by their Trump hatred the chance to beclown themselves yet again.
So you tell me: Is the State of the Union worth it? And before you say "Just don't watch," some of us have jobs that require us to sit through these ghastly wastes of time every year … for what?
Do you enjoy it? Is it important? As I pointed out in Monday's podcast, there are very few memorable moments from the speeches–which have no impact whatsoever on policy.
If there's a case for (or against) the SOTU address, please make it below!