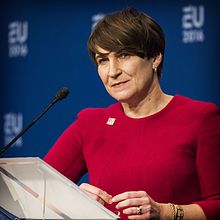 Did the pope honor a vehemently pro-abortion activist, Netherlands minister Lilianne Ploumen, with the title of Commander in the Pontifical Equestrian Order of St. Gregory the Great? Reports on various blogs, including a short video clip, flabbergastingly suggest just that. If any Ricochetti speak Dutch, can you verify whether these blogs' translations of this video are accurate? The medal itself looks strikingly similar to the genuine article if it is not real.
In this era of legitimately fraudulent "news" (as distinguished from frequent media misrepresentations, a la President Trump's "fake news"), it is hard to immediately believe this report. Then again, Francis's pontificate has been anything but believable.
The Order of St. Gregory is not reserved for saints or even Catholics (Roy Disney received it, as did Jimmy Savile, though before news broke of his horrible crimes), but it is nominally given to those who are "deemed worthy to be honored by a public expression of esteem on the part of a Holy See." G.K. Chesterton and Alice von Hildebrand are members of this Order.
It is difficult to see how Ms. Ploumen — whose organization raised over $300 million for contraception and abortion programs in 2017 in response to President Trump's admirable reinstatement of the Mexico City Policy — could ever be in the esteem of any pope. She did, however, meet with Francis at a "climate change" conference at the Vatican in 2015.
If true, as it seems to be, this is yet another kick in the stomach for many of us who have been horrified by the dark clouds gathering over Rome during the Francis pontificate. This pope seems most devoted to rewarding causes that subvert the Catholic Church itself.