Where are the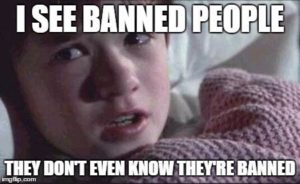 liberal free speech advocates? Conservative thought is being silenced. Silicon Valley's powerful programmers are hiding voices with which they politically disagree by using statist-like media restrictions not dissimilar from North Korea. Kim Jong Un approves. Just this week we saw two new examples:
Project Veritas latest investigation demonstrates Twitter's shadow banning of conservative accounts:
Twitter Engineers To "Ban a Way of Talking" Through "Shadow Banning," Algorithms to Censor Opposing Political Opinions". This results in far fewer people seeing conservative Twitter accounts.
Daily Wire reports:
Google Targets Daily Wire, Other Conservative Sites With Left-Wing Fact Checks, Immunizes Left-Wing Sites. Suffice it to say that the use of left-wing fact-checkers as truth police is a massive step in favor of media bias, not against it.
Free market advocates, like myself, firmly believe government control of a product or service reduces competition, decreases quality while increasing pricing. In deregulated markets such as airlines and telecoms, we have seen more options, which increase quality all while allowing lower prices for consumers.
We complain about the paying for luggage or pillows, but the reality is the cost of airfare is still very affordable. Low-cost carriers turned the antiquated airline industry on its head and while you probably hate Spirit Air, they do a service in keeping United and Delta in check.
And when was the last time you screamed at your kids for calling another area code?
When the powerful elite entices government to put its thumb on the scale, the state ends up picking winners and losers. Today's winners are our Silicon Valley betters who dictate progressive values through suppression of any Deplorable's alternative thought, quite possibly yours.
YouTube (Google), Facebook and arguably Twitter own the marketplace of user-created content. When programmers are politically motivated to silence your voice, you have little recourse. Currently, there are no other content platforms of comparable reach. Everyone needs to be on the big three.
For small/medium size content providers, the ability to rise above the noise has always been the challenge and Net Neutrality made it harder to remain financially viable. But now with the repeal of Net Neutrality, producers of content, whether a blog, podcast, or video service now have the ability to compete with the behemoths like YouTube and Facebook. In fact, internet service providers will start offering their own video hosting sites to creators of content and, as free-markets always do, provide more options, at a lesser cost.
ISP's now have the freedom to determine pricing structures that best suit their own business model, as opposed to working around the states one-size-fits-all. If you are Google or Facebook, which many now compare to utilities, you were very happy with preventing serious competition. But if ISP's can now launch their own versions of YouTube for their own customers at faster speeds with less ideological programming, suddenly there are more options.
The biggest complaint by activists against the repeal of Net Neutrality is that ISP's who choose to create their own platform for their users may in-turn increase pricing to users who wish to access YouTube. That this may result in fewer people watching Honest Trailers (one of my favorites) on YouTube, thus YouTube loses ad revenue, as does Screen Junkies (the producers).
But, in free markets, water always finds it's own level. Content creators such as Screen Junkies will have more choices where to put their content, which may include smaller, but more cost-effective platforms. Those platforms then grow and, voilà, more competition to YouTube. It's then likely YouTube, no longer a monopoly, will have to adapt or die.
Small/medium-sized content creators will likely leave YouTube and Twitter, or at least spend fewer resources on those platforms and spread their investment over multiple outlets.
Whether or not Project Veritas founder James O'Keefe's new investigation catches a gust of wind and results in change, it's important to remember that due to the repeal of Net Neutrality, free markets can provide us the power to fight back.