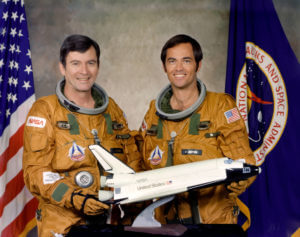 John Young, one of NASA's most remarkable astronauts, died Friday, January 5.
Young was the only man to fly on four different spacecraft (Gemini, Apollo, Lunar Module, and Shuttle) and the first NASA astronaut to fly in space six times. He flew on the first Gemini mission, landed on the Moon, commanded the first Shuttle mission, and the first Shuttle Spacelab mission.
I remember him from my early days in the Shuttle program. Hard to believe he is gone. But he got his three-score years and ten with an extra 17 on top of that. Certainly a life well-lived.