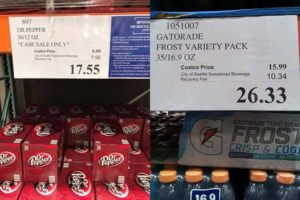 Seattle residents started the new year with a bad case of sticker shock followed by a sugar crash. A new tax of 1.75 cents per ounce was added to all sweetened beverages sold in the city. The move had public support in June when it was passed 7-1 by the Seattle City Council, but images of regret have been hitting social media as the bill came due Monday.
The prices at an area Costco showed that the tax increases the price of Gatorade by 65 percent and Dr Pepper by 75 percent. To avoid complaints from outraged customers, the discount chain posted an explanation of the steep price increase.
THEY ARE NOT MESSING AROUND WITH THE NEW SUGAR TAX IN SEATTLE pic.twitter.com/xqmj7940y2

— hayden ? (@HaydenBedsole) January 5, 2018
"Why do you hate the government so much?" they ask. pic.twitter.com/rodI1Yl9R2

— Devin Sena (@DevinSenaUI) January 5, 2018
Where will all the new revenue go? Seattle officials expect a $15 million boost in the first year. Since this was sold as a health initiative, $2 million of that will expand a city program that gives fruit and vegetable vouchers to low-income families. Of course, only $400,000 will go to actual vouchers; the other $1.6 million stays with the government for "administrative costs."
Philadelphia, which enacted a similar tax last year, overestimated the expected revenue. Sales of carbonated soft drinks fell 55 percent inside the city, while sales rose 38 percent in the towns that surround it. It achieved neither the financial goals nor the health goals.
When the Seattle tax was first proposed, a "racial-equity analysis" found that diet beverages should be included since they are more popular among whites and the wealthy people. The politicians shot this down since they know which constituents donate to and vote for them.
Like most of these beverage taxes hitting blue cities, what is and is not included are counter-intuitive. All meal replacement drinks, powdered mixes, and most sugary coffee drinks — such as those found at local mega-company Starbucks — are exempt.
So, if you buy a bottled lemonade, you pay the tax. If you buy Kool-Aid and mix it with water at home, no tax. If you buy a Venti Brown Sugar Shortbread Latte at Starbucks, the tax doesn't apply. If you get a Tall Brown Sugar Shortbread Frappuccino, which has less sugar, it does.
Local convenience store owner Jong Kim is frustrated, to say the least:
"What can I do? I have no power," he mused, shrugging his shoulders behind the counter at his store, Summit Foods. "Seattle is too expensive. Everything is a tax."
Oh well, I'm sure this foolish new soda tax will turn out fine just like Seattle's foolish minimum wage hike.